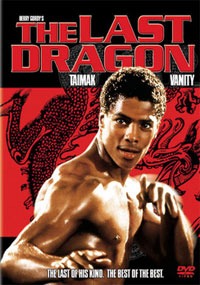 So as you all know, Machida is going to try to yank the Light Heavyweight title from Rashad Evans this weekend at UFC 98. By now that's like common accepted knowledge, like if you threw buttered toast in the air, it will always land on the buttered side. Or like if you throw a cat in the air, it will always land on its feet. So if you strap buttered toast to a cat's back, and threw both of them up, they would just hover in the sky like a balloon (what do you think UFOs are?). 
Earlier this week Lyoto called out Brock telling TATAME that he wants to brawl with Lesnar because it would be a 'challenge'. If Machida really wants the ultimate challenge, then he needs to get in a cage with a guy that has a record of like 574-0 and can catch bullets in his teeth. That's right, Lyoto Machida has to tangle with Bruce Lee Roy to solidify his place in MMA history. Bruce Lee Roy's last victory came in 1985 against your boy Sho'nuff aka 'The Shogun of Harlem' (rest in peace man…damnit) via The Glow. 
If you don't know what The Glow is then you probably shouldn't even be reading this. As a matter of fact, turn off your computer, give me your toys and sit in time-out until you realized what you've done. This has the potential to be, quite possibly, the greatest fight in the history of histories. Both of them are undefeated yet only one of them has the ability to create light trails in the air with his hands. 
The only way Lyoto could win this fight is if his head was repeatedly dunked in a barrel of water until he achieves The Glow, otherwise I'm going to have to give it to Bruce 'The Last Dragon' Lee Roy out of a pure hollywood technicality. The Glow is a game changer.