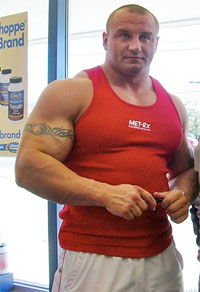 People say 'I'll see you in hell' but in reality, I don't want to see anyone in hell. I'll see them in hell only if hell was constructed from those white sticks in 'Fun Dip' candy packets. Then hell would be candy heaven and heaven would just be regular heaven. Let's face it, if you had a choice to go to regular heaven or candy heaven, which one would you pick? If you're a diabetic, then candy heaven would be candy hell. Regardless of which hell you end up going to, there's a good chance Mariusz Pudzianowski will be there guarding the the gates with some gargantuan pitchfork.
If you missed Mariusz Pudzianowski's MMA debut, then you're probably unaware that there's a left-leg still orbiting earth's atmosphere. Mariusz used his tree trunk thighs to smash his shin directly into the bone of Marcin Najman subsequently causing him to collapse and get jumped on by a dude that was considered 'The World's Strongest Man' not once, or twice…but five times. Unfortunately, Mariusz's bout with Tim Sylvia at Moosin didn't go as he expected. After battling through the first round, Pudzianowski was another victim of Sylvia's ridiculously long reach when he submitted to strikes at 1:43 in the second. Bummer for the Pudz, but now it looks like his next opponent is scheduled to be Butterbean and from his recent statements, you shouldn't really be surprised.
Poland's KSW is aiming to assemble a grudge match of two guys that probably weigh the same but have dramatically different builds. KSW promoter, Maciej Kawulski, breaks down what could be the headliner for their next card.
"Butterbean is an MMA superstar in the USA. Mariusz would have to deal with an extremely experienced opponent, who's also an uncompromising competitor in the ring. His fighting style is very brutal and aggressive"

"If Mariusz improves his conditioning, and I know he works on it with professionals, this fight could end up being an unforgettable show for all KSW fans. Once both sides express their interest in the fight, KSW Federation will try to book this bout. "
I'll watch it, so will you. Chances are we will not be watching it in the same room but you can still guess how many devil food cake cookies I'll be eating during the broadcast. If you said 'the whole box' then you would be right. [Source]