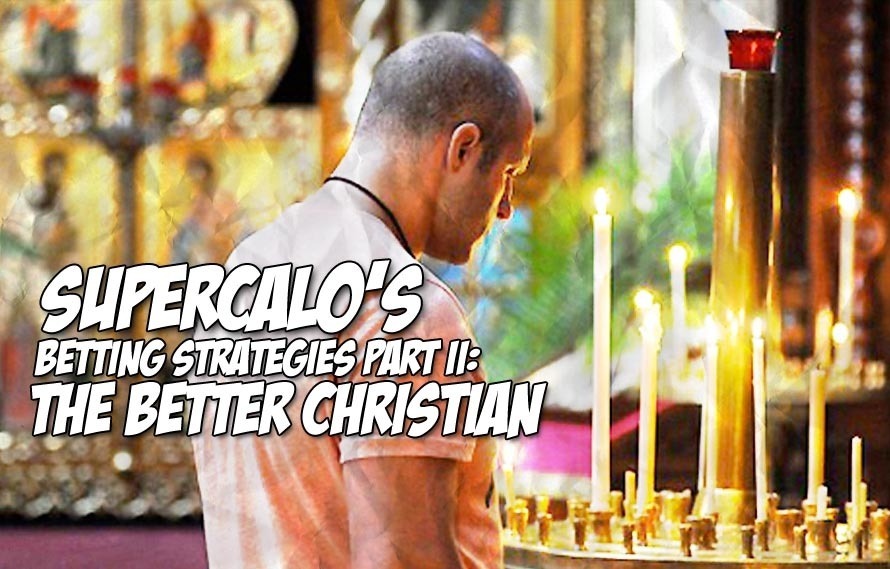 superCalo Betting Strategy Part II : The better Christian
(see part I) this is merely a timing issue, there not always a rainbow in sky but if you only look upwards after rainfall you see them every time, actual fact
rainbows very rare on cloudless hot day, or when it snows.
Not so long ago uFc champions were :
pW : Fedor
Emelianenko – no tattoo
hW: Junior Dos Santos – no tattoo
lHw: Lyota Machida – no tattoo
mW : Anderson Silva – no tattoo
wW: Matt Hughes
– no tattoo
There will always be abnormalities in every system is why no system is perfect & is why need a COMBINATION of strategies to truely beat system
Second part of multi layered dimensional betting strategy is the better Christian.
In a fight between a non Christian & a Christian the Christian will win 76 % of the time.
Witness Gods own Lion Vitor Belfort vs Bisping, the foot of Jesus did strike down the unbeliever, proving word of Lord, so it was written old testament stylz
Look at the Christian champions in the uFc : all of them, from Cain to Mighty Mouse everyone a avowed Christian, coincidence ?
What if two xIans are fighting each other ? who wins
The better xIan. Anderson lost his faith somewhat, Weidman beat him, likewise Fedor went all unorthodox, when he went orthodox style again he start winning, faith is strong, but without faith what is a man but blood, bones, & muscle.
This result of this sub strategy of the better xIan is 100 %, find a example where it hasn't worked I challenge anyone
Next week I will look at receding hairline strategy in terms of betting picks for mMa fights. Bald is indeed beautiful.