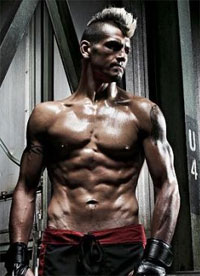 If you were like me and accidentally set your alarm clock an hour late to catch Sengoku X, then you probably missed the first two bouts (Maximo Blanco vs. Tetsuya Yamada and Joe Doerksen vs. Takenori Sato both of which ending by KO in the second round). Bummer. At least you woke up just in time for Dan Hornbuckle vs. Nick Thompson. It was difficult not to see that huge EA Sports MMA logo right on Thompson's baby-makers. It was drawing attention to his crotch like a glowing neon sign. Thompson was lucky Hornbuckle wasn't related to Gabriel Gonzaga. It's safe to say that we can expect Nick Thompson to appear in EA Sports MMA despite being KOd by Hornbuckle in the second round this morning. For a dude named 'The Handler', Hornbuckle is the most underrated welterweight in MMA. You would think that KOing Gono by way of cosmic leg kick would put him on the map (at least give him a EA Sports MMA contract) but apparently a record of 21-2 means nothing. Keep rocking it out with your Mad-Max mohawk and continue to give us a reason to wake up at 4am. Also, if you wikipedia Hornbuckle you are directed to the 'List of minor Mortal Kombat characters'. That's one of the greatest honors that could ever be bestowed on an individual.
Ryan Shultz also scrapped in Sengoku X. If you guys aren't familiar with him, imagine a downgraded version of Evan Tanner that was reincarnated (no offense Ryan, but Evan Tanner was entirely too rawesome). Shultz is the only guy to hand Chris Horodecki a defeat along with Roger Huerta, Jason Dent, Aaron Riley and Deividas Taurosevičius. Unfortunately, since Ryan Shultz left the IFL last year, he's pulled down an L in all of his fights including a brand spanking new one this morning. Kazunori Yokota pulled the upset and all appropriate props must checked for quality insurance and then handed to him.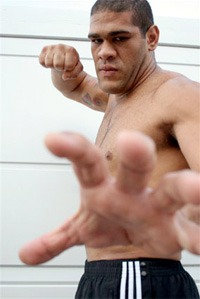 After the long intermission we've come to know and love (and fall asleep to), the audience was treated to a promo video of Sengoku's New Years Event (that is actually going head to head with K-1 Dynamite), Sengoku Raiden Championship. Yet another Mortal Kombat reference ftw. It was shaping up to be the best 5:10am in the morning ever. Eventually we finally got to see Bigfoot Silva scrap it out with Big Jim York. After Antonio completed his audition of 'So You Think You Can Dance?' as he walked to the ring, Guy Mezger stated that Antonio Silva suffers from Gigantism. We don't think it's possible to suffer from something that has made you a complete hard-ass your entire life. Perhaps Mezger tried to say 'People have suffered from Antonio Silva's Gigantism' in which case we completely understand. That's like someone saying 'Sir, you suffer from Fedorism. We're going to be forced to cut off all your limbs to prevent overhand rights'. Modern medicine, sometimes you just have to let stuff roll (how else will we ever get mutants?). The most surprising thing about last night is Bigfoot Silva winning by triangle and not via shaky camera. After Antonio's win, Micheal Schivalleo remarked 'There's more Silva in Brazil than my local jewelry shop'.
The main event we saw the debut of a dude named Antz "Notorious" Nansen vs. Japan's 2004 Judo Olympic silver medalist, Hiroshi Izumi. If you haven't heard of Antz Nansen don't worry, Micheal Schivaello informed us that Nansen was from 'The bad bad streets of New Zealand where they don't ask you for the time, they just take your watch'. I want to steal whatever book he's getting these from and claim it as my own. You would think a guy that has an Olympic silver medal in Judo would try to take his opponent to the ground. No way (and shame on you for thinking logical). Izumi stood up with Nansen for that entire two minutes and fifty-six seconds before Antz finally sent Hiroshi on the ground for the last time. Dude grabbed the win and after the fight he called out Satoshi Ishii (Japan's 2008 Judo Olympic gold medalist). Sengoku pulled it off with another exciting night/morning of fights with only one fight going the distance. Sengoku also confirmed that we will see Kevin Randleman vs. King Mo in their next event. Rawesome.