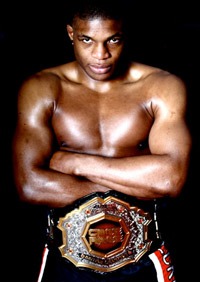 People on the internet say Paul Daley looks a lot like Donatello from the Teenage Mutant Ninja Turtles. There's nothing wrong with that. If I had to pick a crew of mutated reptilians to be associated with, the turtles would definitely be at the top of a very short list. I would like to say all Teenage Mutant Ninja Turtles love pizza, but that's a negative stereotype. I haven't even met a Teenage Mutant Ninja Turtle. That's like saying all Teenage Mutant Ninja Turtles wear primary colored headbands. My entire belief system on mutated turtles was formed by the age of 10.
The greatest thing about Paul Daley is that he appears like a guy who doesn't care that people repeatedly compare him to a mutated turtle. Dude just wants to fight and he's pissed at Condit for dropping out of their UFC 108 bout. Check out what he said on the UG.
Step up!! You [expletive]…UFC 108 … You know me, I'd except any fight. I just wanna fight. Condit is a big [expletive] IMO, i have inside information on that dude….it's all good as long as i fight. Koshcheck…is a tough [expletive], but i accept the challenge. Hazellet has sick subs, and is dangerous, but i except that fight too. Any top level fighter in 170lbs with a winning record. Joe make it happen.
Since Condit is out, can we finally get a little Rumble Johnson vs. Paul Daley action on the immediate horizon? That fight would end with a hand erupting on someone's head…and I can rest easy at night knowing that it won't be mine. [Source]