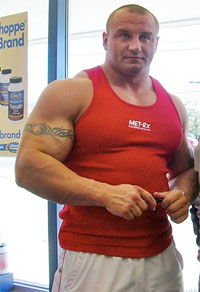 If the Keebler Elves still existed, they would be 38 years old today. That's crazy. I don't think I've ever met elves that were that old and still lived in a tree together. Those guys have been making cookies for years, maybe they could move out the tree by now. Snap, Krackle and Pop needs to move out the cereal bowl also…those guys are millionaires. The only thing Kebler Elves had to do with Mariusz Pudzianowski is that when I saw him nearly murder some guy inside a ring in Poland just a few minutes ago, I immediately threw my box of gingerbread cookies against the wall in disbelief.
A few people asked me if Mariusz won. He did something more than 'win'. I don't think humans have invented a word for it yet. Whenever they do, I'll remind Webster to put a picture of Mariusz in the dictionary with a caution sign next to him.
After months of writing about this guy and scavenging Polish websites for info, the dude finally made his MMA debut tonight at KSW 12 against Marcin Najman. Fight pretty much went exactly how you thought it would play out. Mariusz's brother got on the mic and started doing his best impression of Bubba Sparkxx. After a few minutes, dude finally climbed in the ring. Both fighters touched gloves, went in their corners and within 13 seconds, Mariusz Pudzianowski kicked off his opponent's legs. Both of them. If you look up in the sky, you can probably still see Marcin Najman's right leg orbit the planet. Marcin immediately dropped to the ground and Mariusz smashed him with ground and pound that could only come from a five-time World's Strongest Man. Najman tried tapping out sooner but every time Pudzianowsk struck him, dude's body lifted from the ground. Eventually the ref had to stage dive on both fighters to signify the fight was over.
Tonight was just Mariusz Pudzianowski's way of saying 'hi' to the entire Strikeforce/UFC heavyweight division.