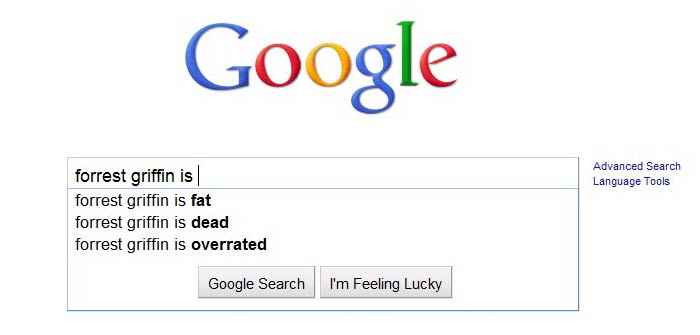 Now who will deliver some deadpan comedy after brawling his heart out and bleeding all over the Octagon? No one, that's who. It's the end of an era. After UFC 160, Dana White made the announcement that Forrest Griffin would be retiring like so few don't: on a win. The last time we saw Forrest in the Octagon, he was 'Kanye-ing' Tito Ortiz's retirement, now he's retiring amidst the nipple tweaks of Bigfoot Silva upon JDS. Fitting, in a way.
I'll forever owe Forrest a huge debt of gratitude for hosting Pistols and Predictions, and maybe one day I can thank MMA's merry prankster, but for now, I'll just write 'props to Forrest on a great career' in this very article. Inception style.
In this interview with Ariel Helwani, Forrest explains that his mind was made up to retire pretty much after watching Stann and Silva steal the show in Japan at the beginning of March. Forrest said that if he couldn't go out there and put on a show like that or fight for the belt, then what's the point? It's an honorable decision Forrest, thanks for not hanging around too long and losing a bunch of fights in a row until we begged you to leave. Few people in life in general get to go out on a high note, and if anyone deserves it, it's Forrest.
Here's the interview.
Thanks for the memories, Forrest!