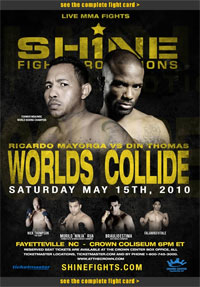 Like a proud father who slaps bumper stickers on the back of their SUV claiming there son/daughter is an honor student of <Insert Midwest Conservative Elementary School here>, CEO of Shine Fights, Devin Price, has been holding onto the Din Thomas vs. Ricardo Mayorga card like it's his first born. Technically, it isn't. Shine has hosted events like American Top Team vs. The World (give you one chance to guess who won that) and other smaller events but nothing as immense as having a submission wizard like Din Thomas take on a very dangerous Ricardo Mayorga in his first MMA fight apart from his prestigious boxing career. This is where it gets tricky.
Don King has filed an injunction to cancel the May 15th card on the claim that Don King has represented Ricardo Mayorga throughout his boxing career and even in MMA, King claims that he still 'owns him'. It looks like Devin Price has taken Don King's legal threat and promptly urinated on it in this latest press release from Shine Fights.
"MMA fans are going to see an electrifying evening of fighting. I have faith in the American justice system, and I believe justice will prevail. When one operates within the rules and regulations, one has nothing to worry about. As far as King goes, it is just his usual smoke-and-mirrors. He shoots his mouth off about an injunction to try and sway the media's perception, and then waits until the last minute to file in hopes of affecting the success of the promotion. I know the difference between MMA and boxing–and so does Don King. The members of the media, and both MMA and boxing fans, can clearly see that Don King is up to his 'trickerations.' This is a wonderful and exciting promotion Shine Fights has put together for both MMA and boxing fans, and I look forward to Saturday, May 15th."
Damn. Shine Fights really pulled out the 'trickerations' card. That's when you know it just got real. Josh Gross from Sports Illustrated and I went to the Los Angeles open-workout of Din Thomas and Ricardo Mayorga in hopes that we will see another sporadic karate chop incident similar to what went down in New York. Instead, we just ate tacos and grabbed a few interviews.