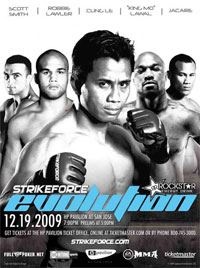 I was eating Lucky Charms the morning I got in two car accidents in the same day. Something went wrong there. General Mills needs to try harder. When it comes to utilizing luck to make decisions in my life, I'm a complete failure. That's why our MMAMoneyline picks has looked like Chernobyl for the past few months. Every pick that I've ever made on an MMA event turns into a complete disaster. That's why we got Shane Carwin to make MiddleEasy.com's official Strikeforce: Evolution picks.
You shouldn't be amazed that Shane Carwin made our picks. You should be astonished that he found a keyboard large enough to accommodate his gargantuan hands. Dude could squeeze orange juice out of gravity. Earlier this week, Carwin took time out to make our MMAMoneyline picks and here they are…for you to awe over:
Cung Le over Scott Smith
Gilbert Melendez over Josh Thomson
Jacare over Matt Lindland
King Mo over Mike Whitehead
Antwain Britt over Scott Lightly
Nakamura over Justin Wilcox
Bobby Stack over David Douglass
Alexander Crispm over AJ Fonseca
There you have it, from The Engineer himself. If somehow you lose money on these picks, you're going to have to take it up with Shane Carwin and his straight jab. Good luck with that.