7. UFC 223 Sheer insanity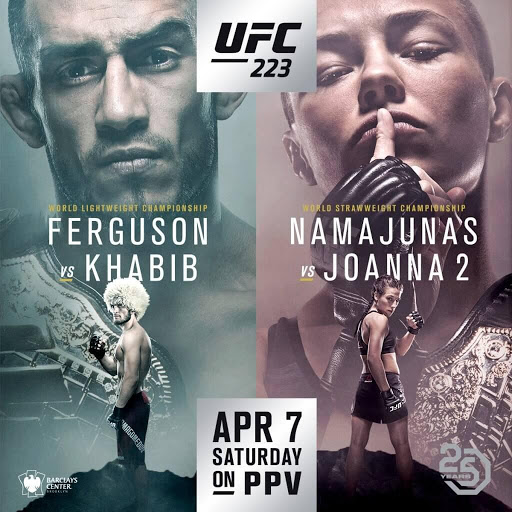 UFC 223 was set to be one of the highlight event of 2018; with Tony Ferguson set on a path to finally face long-time rival Khabib Nurmagomedov in a matchup that would have surely ensued unfiltered chaos. The prospect of Khabib VS Ferguson happening was enough to have MMA fans hyped beyond any levels of hype that we had seen before, there was also a tone of optimism found among MMA fans whilst heading into the match up as both fighters successfully made weight and had successfully fought previously. Eventually all forms of reality seemed to fold into itself like origami as Tony Ferguson pulled from the fight citing a broken ankle (Sustained from tripping on a cable).
The mood among most fight fans soon turned volatile as the fight got cancelled. Though some fans originally thought it was a joke as the news was announced on Aprils Fools day.
Fast forward a few planetary rotations and Max Holloway was all of a sudden in to fight Khabib on just a few hours notice. The matchup originally was met with criticism as fans thought the featherweight champion; Holloway would struggle to defend Khabibs takedowns and would simply buckle under the pressure of Khabib's offensive dominance due to the fight being on such short notice. Yet as soon as the fight was announced, it was scrapped due to Holloway suffering a poor weight cut.
Anthony Pettis was the new front runner in the race to face Khabib but the duty soon fell to 'raging' Al Iaquinta, who managed to go all five rounds against the Russian mauling machine and lost a one sided decision.
It was an all-round poor week for the UFC as they lost two potentially great matchups. Though all was not too bleak as Conor McGregor used the event to escalate his bitter feud with Khabib Nurmagomedov by launching a dolly through the bus window at the UFC 223 media day, injuring Michael Cheisa and Ray Borg.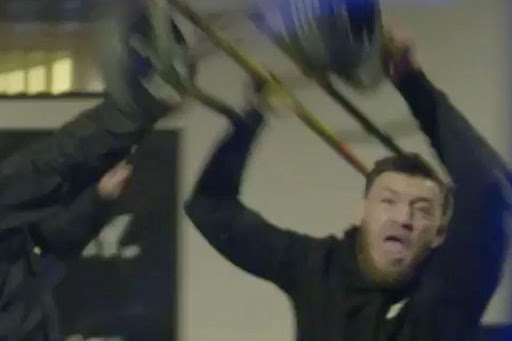 The dolly throw led to McGregor and fellow SBG team mate Cian Cowley being arrested for disorderly conduct; creating with it a tidal wave of publicity and intrigue surrounding the events. The dolly throw was so great because it was Conor McGregor embracing his inner Conor McGregor; it was marvelous to watch McGregor let out his inner cage fighting insanity on Khabib and gave us fans an opportunity to experience the true visceral hatred for each other possessed by the two fighters.
Altogether UFC 223 was an unforgettable event.
6. Dillon Danis Debut
2018 marked the long-awaited debut of "El Jefe" Dillon Danis. Danis made his professional debut back in April at Bellator; he easily submitted Kyle Walker in the first round with a modified heel hook just a few seconds into the fight.
After the 'humble' Danis won his debut fight, he proceeded to talk a lot of smack about his undefeated, undisputed perfect record. Danis's grandiose comments were met with considerable backlash from the MMA community, yet Danis continued to defy the hate embracing his heel nature, emphasizing his undefeated record further through multiple twitter and Instagram posts.  
Danis's debut was so good as it marked the entrance of a new persona into MMA who swayed from the societal norms expected of cage fighters. Danis came across as a Kanye West figure with God-Like confidence who could unite the people in hatred of himself.
5. Rise & fall of Jeremy Stephens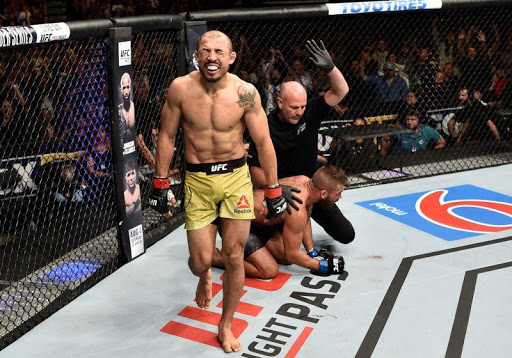 Jeremy Stephens is arguably one of the most entertaining fighters in all of the martial arts world. When he's not being ridiculed for "Who da fook he is". He's smashing top contenders in a violent fashion. Stephens started off 2018 by going on an absolute killstreak; wiping out fan favourite Doo Ho Choi and Josh Emmet. The Emmet fight will probably go down in history as one of the best/worst finishes in MMA; the knee, elbow combination landed on Emmet still keeps me awake to 3am most nights out of horror. Stephens started 2018 off well, going (2-0) in two months and successfully getting married. Things were looking even more prosperous for Stephens when he was matched up to face Jose Aldo in July at UFC FOX. The matchup was spine tingling good from a fan perspective as Stephens looked to be riding a career high point whilst Aldo was seen to be on a post-USADA career spiral.
Aldo pulled off the underdog upset by landing a body shot that was seemingly supercharged from the depths of Hades. Aldos reaction to winning was maybe the most beautiful moment in MMA this decade for me. It was a matchup were I heavily favoured Stephens to win and I'm still a little salty about it, but all is forgiven based on the unpredictable insanity of all Stephens 2018 fights. Here's to a good 2019 run Mr. Stephens.
4. Golden Boy MMA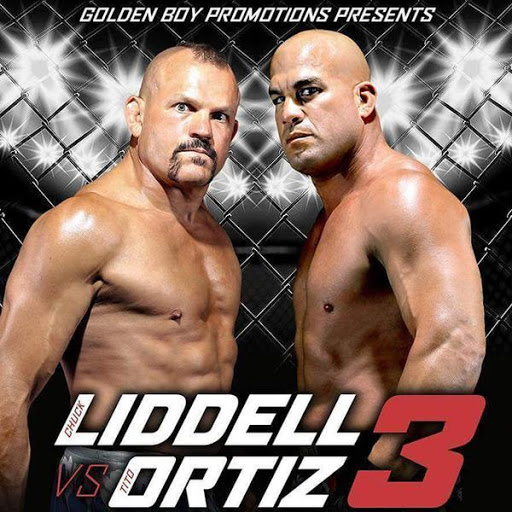 An event marred by heartbreak, shame and sadness. Golden Boy MMA looked to cement their place in the martial arts sphere by creating a ("Retirement") home for MMAs stars of yesterday. The event originally had little hype yet this quickly changed when they dropped the greatest promo in human history. The event was also strengthened by taking place on a Thanksgiving weekend with little MMA competition taking place. The main event of Liddel VS Ortiz went almost exactly as we expected. It sucked.
Though the reason it makes the list is because it will inevitably be remembered as Affliction 2.0. Everything about the build-up was amazing. It was pretty fun to see Tito bumble his way through the press conferences with his Disney channel trash talk whilst Oscar De La Hoya played with his nose every 5 seconds. The "Slo-mo like" training footage was also a cherry on top of the overly iced cake.
3. Khabib jumping out of octagon
Khabib Nurmagomedov is arguably the most gangster fighter on Planet Earth. Khabib doesn't try to win a martial arts contest. Khabib looks to beat you half to death, he wants to crush your soul, destroy your spirit and break everything you stand for with his fists. He is a bear wrestling warrior, bred in the cold, harsh mountains of Dagestan. He also pulverised Conor McGregor over four grueling, vicious rounds in the biggest fight of the year.
You would expect that after months of hard training, an 18-minute war and months of verbal onslaught from McGregor; that Khabib would like to take a few moments to celebrate his win over Conor McGregor. But oh no, Khabib had only just won the first of many battles against team SBG and proceeded to fly like the "Russian Eagle" he is by launching himself over the cage into round 2 of the battle, this time taking on Dillon Danis.
If you're a true fan of MMA you'll have realized that Danis VS Khabib was one of the greatest events of 2018. It showed the true inner warrior spirit of Khabib and you got to see Danis get slapped which satisfies those of you who hate him.
2. Paul VS KSI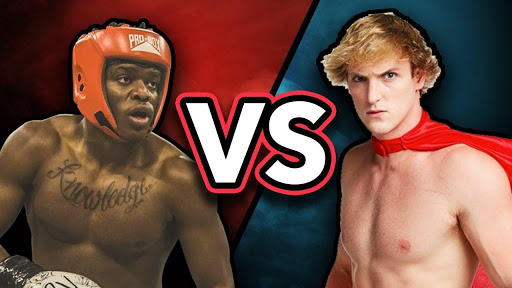 Heading into the boxing bout of the century I surprisingly had zero knowledge of Logan Paul and KSI; which is surprising considering their YouTube content is primarily aimed at my age demographic (17). Even though I had no interest in either YouTuber I decided to (Totally legally watch the event on Reddit) simply due to the freakish nature of the matchup intriguing me. I got Pride vibes from the build up. It was also taking place at a UK time so I deciding to not go out with my friends that night to party but to instead lie in bed and watch Paul VS KSI. Simply put; it was one of the best decision I've made so far in life. I was entertained from start to finish; the combination of freak show street fighter esque brawls, paired with the lavish production kept me enticed all the way through.
Every fight lived up to the hype and kept me hooked from start to finish.
1. Bob Sapp VS Ossunarashi – Rizin 14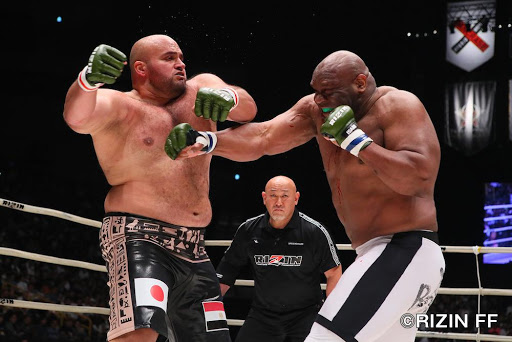 This is my personal pick for fight of the year. Bob Sapp is back and has arguably never looked better! Before the announcement of Rizin 14 we had heard Bob Sapp was living the Gucci life; wrestling bears on Japanese reality TV shows. The last thing we expected was to see him fight again, yet at Rizin 14 he was announced to fight Ossunarashi 'The Sandstorm' in a super heavyweight slug-fest. Expectations were sky high as rumors were spreading that Bob Sapp was actually going to try and win for the first time in years. The rumors turned out to be true as Sapp fought with sheer heart and determination managing to go the distance in one of the most legendary battles in human history and in the process snapping his 14-fight losing streak.
Rizin 14 also allowed fans to witness the super-fight of the century between Kyoji Horiguchi & Tenshin Nasukawa, with the pair engaging in a back and forth nine-minute war in one of the best fights of the year. It's sad that we will never see Ossunarashi grace the Rizin ring again, as he's banned for violating sumo code.