I don't actually think Ross Pearson knocked out Ryan Couture for the Queen as the banner suggests, but maybe he did a little. I don't really know how much Ross Pearson cares about the royal bloodline, but if he did knock out Ryan for the Queen of England, then by proxy he executed supreme violence for the Queen's corgis as well. Men fighting each other for the honor of these dogs – that's something I could get behind.
The fight was going just like a Couture fight for the first few minutes, then about midway through the second round Pearson's patience paid off (alliteration 100% by accident and 100% necessary, thank you) and he started tagging Couture with a bevy of strikes that Couture couldn't come back from, ultimately leading to this .GIF, which is an animated look at the first time Ryan Couture has ever been finished.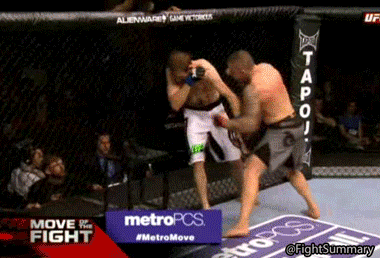 Thanks to Fight Summary for the .GIF!