Jacare's black belt lineage in Brazilian Jiu Jitsu is like a most wanted list full of the world's most dangerous artists of the choke and forceful nap. How can you even fathom this: Mitsuyo Maeda > Carlos Gracie > Reyson Gracie > Osvaldo Alves > Henrique Machado > Ronaldo Souza. No one can deny Jacare, and he just took home his fourteenth submission win by applying an arm triangle from hell on Chris Camozzi in front of Jacare's home country of Brazil. Nice, very nice. Apparently, the whole arena was doing the 'crocodile clap' in Jacare's general direction after this boss performance, and he did it right back to them. I'm sure it was a very sweet moment for everyone in the Jaragua do Sul Arena.
Props to Chris Camozzi for rolling with a ridiculous amount of opponent changes and being a game opponent for whomever they decided to stick in the cage with him, but alas, he was forcefully put to sleep against his will by the former Strikeforce middleweight champion. Jacare vs. Vitor now.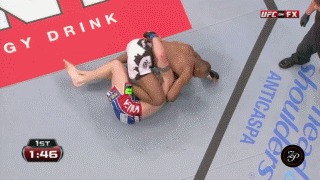 Thanks to Zprophet for that .GIF up there.