While the Combat Sports world worries about Mayweather versus McGrgeor on August 26th in Las Vegas, we're over here with our jaws dropped about the balls on the UFC Fight Pass account. Not worth a follow on non-UFC Fight Pass event days, the FP Twitter account came out of nowhere to throw body blows late Monday night.
Mayweather and McGregor just signed contract. Fight is on.

— Joe Biggs (@Rambobiggs) June 13, 2017
Floyd vs. Conor on Aug. 26? That's the plan at the moment. My story: https://t.co/e8HqOn7FaS #boxing #MayweatherMcGregor

— Dan Rafael (@danrafaelespn) June 13, 2017
UFC Fight Pass out in these social media streets taking no prisoners and somehow managed to talk shit to a MMA media member, throw massive shade in the direction of Bellator's upcoming PPV attraction, then get completely buried by its own fans all in the span of 90 seconds. A fascinating online train wreck.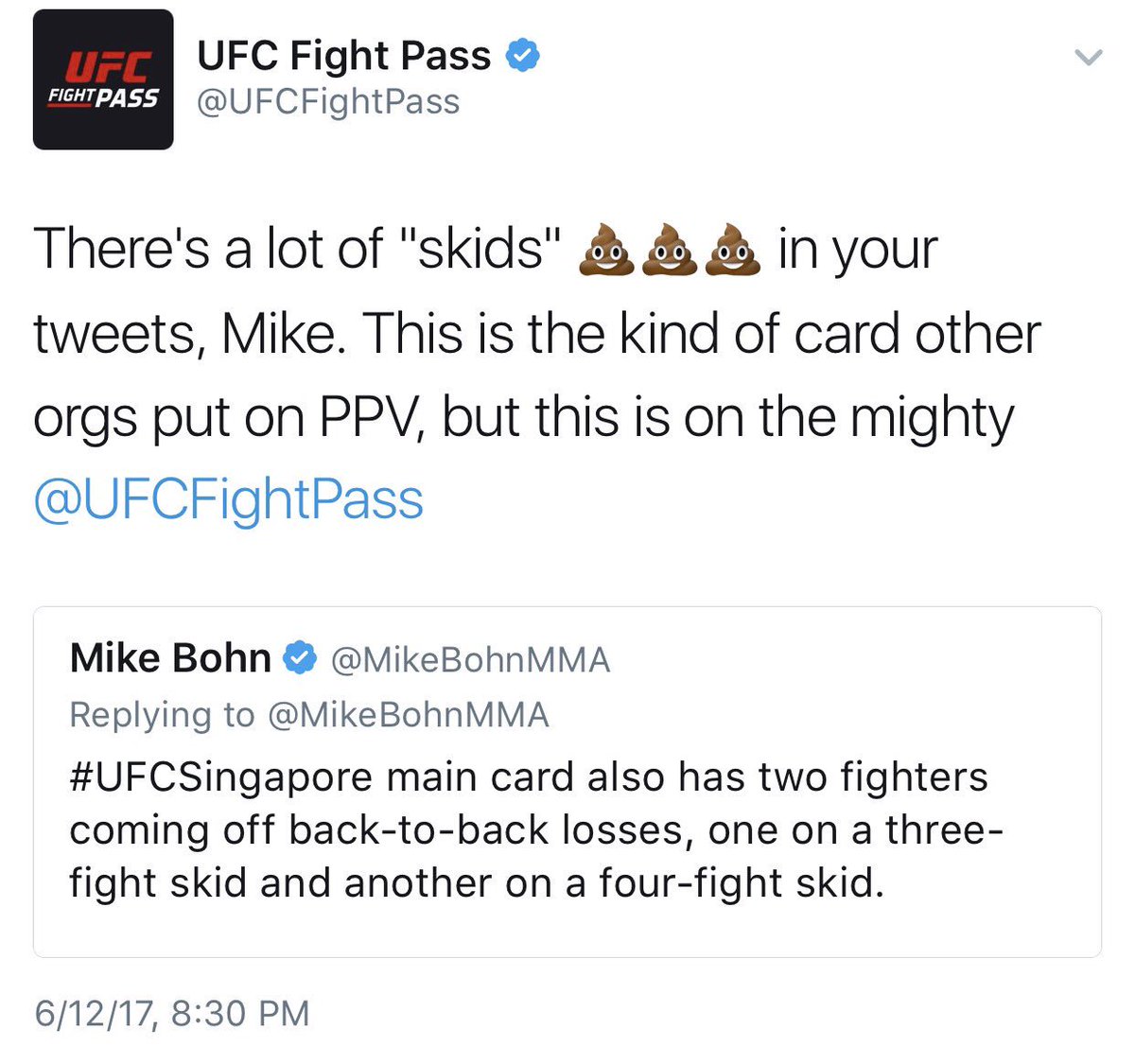 Then wilding out Fight Pass got buried by the Internet for their efforts
I believe this is what the kids call … pic.twitter.com/fEqi67Kkxc

— Ariel Helwani (@arielhelwani) June 13, 2017
— UFC Fight Pass (@UFCFightPass) June 13, 2017
— UFC Fight Pass (@UFCFightPass) June 13, 2017
You don't even have an app for the most popular gaming platform in the world (@PlayStation ). Stop tweeting & get to work

— Dub (@DawgsAreInAnI) June 13, 2017
Did yall let Dana start running this account?

— Austin Price (@AJPrice803) June 13, 2017
log off

— lamentabledstmn (@lmntbldustman) June 13, 2017
Lol, nobody would be putting that card on ppv. There's nothing even maincard worthy on that.

— Eric Sharpe (@sharperic) June 13, 2017
UFC Fight Pass Twitter account out here tweeting like your parents……. pic.twitter.com/sAHjEsdYSy

— MiddleEasy (@MiddleEasy) June 13, 2017
Join our list
Subscribe to our mailing list and get interesting stuff and updates to your email inbox.