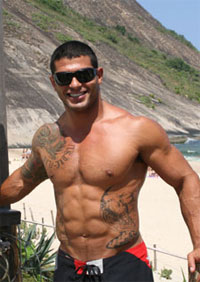 Last night while you were probably out telling a chick you were a movie producer at some club, Bitetti Combat was in full swing and you missed it (and that number she gave you…yeah, it doesn't work). Yesterday I gave you guys a full breakdown on why I was flipping my coffee table over in anticipation for Bitetti Combat, the sleeper MMA event of the year. It's insane how these guys didn't stream a live PPV of the card over the net…but leave it up to illegal piracy to fill in those gaps. Justin.TV had a live stream of Bitetti Combat that I tweeted (twatted?) everyone to check out (all the more reason to follow MiddleEasy on Twitter).
Ninja Rua pulled off a spectacular high-kick KO, Pedro Rizzo scored a unanimous decision over Jeff Monson (which Fight! Magazine has ranked the #5 heavyweight in the world), Paulo Filho removed his cut-off flannel of might to score a W over Alex Schoenauer and we all saw Anderson Silva rock a pink shirt. Renzo Gracie shocked everyone when he officiated along with Big John (which the Brazilian ring announcer called 'Big John McCart').
Above all else, we saw the return of Ricardo Arona in a very satisfying fight against Marvin Eastman. Check out this video of Arona right before he made his first appearance in the cage since 2007. Now hopefully Strikeforce will sign the dude so Gegard Mousasi can have someone to bang against in the LHW division.