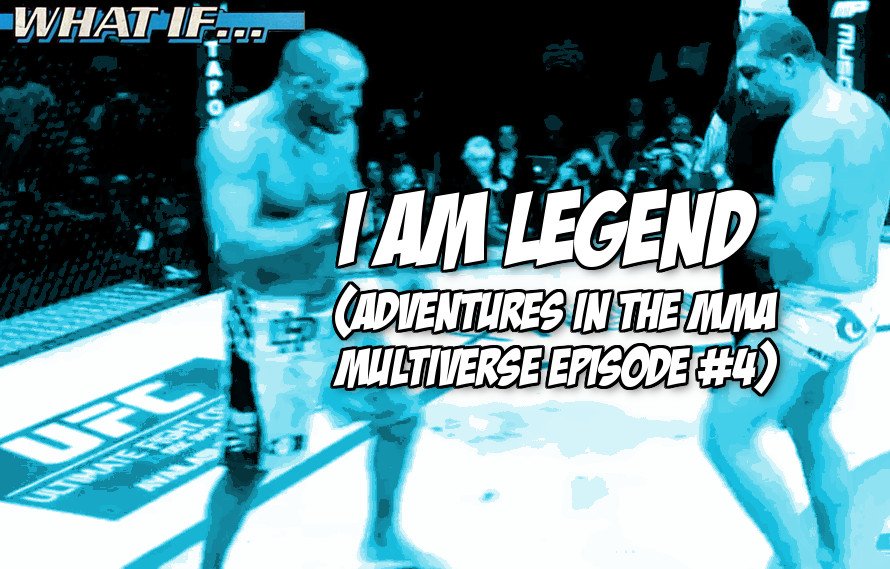 Welcome back Middle Easy-ians, to another Adventure in the MMA Multiverse.
Sometimes our journeys in the Multiverse bring us to bizarre realities that we can hardly understand. Unknown languages, inter-species interactions on universes teeming with life, and not just human life, but all sorts of sentient beings exist beyond our tiny mouse hole in Multiverse. But one constant remains, all cultures demand bloodsport. And bloodsport, like all sport, eventually falls victim to the to another cultural constant, bureaucracy.
Countless universes, all full of promotions and commissions and traditions, the varieties are overwhelming, but fight fans whether they are human, alien, vertebrate, invertebrate, cybernetic, or transcendental, they all still love their legends. And all combat sports legends die hard and brutal and usually on the biggest stage possible.
Except one place in the Multiverse. One place has found a way to keep their legends forever…
– Episode #4
o Universe #23,235,102
o Excerpt from the Cydonian Herald (Mars' Largest Newspaper)
March 15th, 2211
The eyes of the fighting world from around the solar system are fixated on the fabled Cyro-Gen Labs in Cydonia, the crown jewel of mankind's second planet, as two legends of combat will emerge from their deep freeze, to once again face off for our viewing pleasure. After their last epic match up nearly 5 years ago, fans were horrified to learn they'd have to wait this long for the 23rd rematch.
Thankfully neither Dan Henderson nor Mauricio "Shogun" Rua's teams reported any complications in the transition from cryogenic states. Early rumors claim that Hendo is already eating solid food, and has knocked out three sparring partners in training camp.
After 2212's amazing 8th round TKO victory by Shogun Rua, the CAC suspended Henderson for four years after he suffered a completed detached left arm in the 3rd round. The fight date of 11/19/2211 was quickly set, as it's not just 5 years since their last match but also 200 years since their inaugural fight.
All the focus is on Brian Ludwig and his team Bang Cognitive. They've been tasked with the cognitive training for Hendo while he's been in cryo-sleep. After runaway success programming for Sakuraba and Diego Sanchez, Brian Ludwig and his team were tapped to train Hendo in the four and half years of stasis. It's a huge stage for the upstart team, and many are worried that the CAC is placing too much on an inexperienced squad. Their massive failure in the Nogueria brothers grudge match four years ago is still fresh in many fans' mind. Ludwig had this to say about the new challenge ahead of him for this fight camp, "Well, it's a new matchup for our team and we had significant damage the medical wing had to deal with, but this is some of the most advance training that we are programming during his sleep. I've been studying film from Shogun, studied it sober, studied it stoned, studied it on spice, so we are bringing the best ideas in martial arts to this camp. Os."
In the opposing camp, Master Rafael Cordeiro is in good spirits after winning the last two matchups. His Kings Subconscious team has been at the forefront of mixed martial arts training for athletes in Cryogenic Sleep. Master Cordeiro himself recently transferred his consciousness to the latest in android technology, the ING4300. It's been his sixth consciousness transfer since his bio-death in 2056. "I feel great. This new robot kick good, punches good. It's always a pleasure to be in a new body, you know." As for the fight itself, "We gonna improve more and more and more Shogun's game. This is what I believe. We keep open mind to learn to program the fighter to have open mind. This is the difference. And for sure, this gonna be a great fight. Legendary fight."
We will continue to bring you all the latest news and rumors surrounding the both camps as they prepare for the biggest fight of the decade, later in the year.