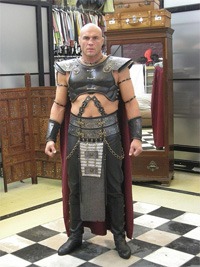 It looks like we have another Shogun vs. Machida decision. I really hope Brandon Vera took out an insurance policy on his MMA career because the dude was just robbed. The most surprising moment after the fight was Joe Rogan firing off at the judges and clearly stating Brandon Vera won. Rogan also said that something must be done with scoring in MMA. We can finally agree that the 10 point must system needs to go away. I was going to say the 'must system must go' but that's entirely too cheesy. We'll leave that up to other MMA sites…sites that like to say the same word twice but place a different meaning on it. Sites like that are a sight for sore eyes.
Once again, it looked like the judges were too busy looking at Jaco Clothing's dope resurgence fight shorts to score the fight correctly (same thing happened a few weekends ago in Machida vs. Shogun). Couture pulled off a unanimous decision over Brandon Vera bringing his record to 17-10. Well, if you're a Brandon Vera fan…look on the bright side. Brandon Vera should get a trophy for having the best soundbites on UFC Undisputed. He should also get voted as the 'UFC fighter with tattoos most likely to start a Druid ritual'. Vera should also get a plaque for having one of the hottest wives in MMA.
Congrats goes to Couture on his win and hopefully we'll get to see some Machida vs. Couture action which can only end in both fighters getting robbed and the world simultaneously exploding out of sheer confusion.