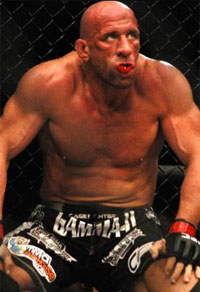 Randy Couture vs. the man most likely to play 'possum' inside of an octagon has been scheduled for UFC 109. A few months ago, Mark Coleman vowed that he had the recipe to defeat Machida and knew how to 'expose' The Dragon. Mark Coleman is also an expert at exposing parts of his bodies and (and others). It took the UFC 11 years to finally assemble this bout, back when Mark Kerr was the best pound for pound fighter in the world. Back in 1998, MMA didn't have Brock Lesnar…we had Tank Abbott and everyone from Bas Rutten to Kevin Randleman was calling him out. Back when guys like Igor Zinoviev were feared and a UFC card was just a four-man one night tourney. Sherdog is reporting that Mark Coleman vs. Randy Couture will be a headliner for UFC 109.
Randy Couture and Mark Coleman have verbally agreed to a light heavyweight headlining bout at UFC 109 on Feb. 6 in Las Vegas, Sherdog.com has learned through sources close to the bout.

If signed, the bout will mark the first time UFC hall of famers have met in the Octagon. Both former heavyweight champions, Couture was originally slated to face Coleman at UFC 17 in May 1998 in Mobile, Ala., before the four-time Olympic alternate hurt his ribs prepping for that year's Greco-Roman wrestling Nationals.
I wonder who all these 'close sources' are and their nearest availability of making me a turkey club. A turkey club is a club that everyone can enjoy with chips. If a 'close source' prepares me lunch, they will be elevated to my 'close friend'. [Source]