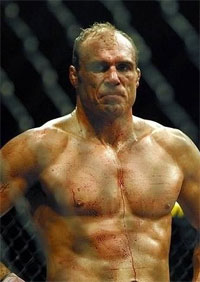 Did anyone expect that fight to go any other way? I haven't even read the influx of text messages I received seconds after this fight ended, but I assume some will probably begin with 'dude, that fight just ruined my parlay!'. Yeah, we all lost a lot of cash on betting on a ridiculously impossible outcome to occur tonight at UFC 118. Ah well. At least you didn't drop $300 on Satoshi Ishii in his fight against Yoshida at Dynamite!! 2009, undoubtedly one the poorest MMA bets I've ever been involved in.
The fight played out exactly like you thought. The bell rung, Randy circled around Toney for a few seconds and then shot for the takedown. The rest of the fight consisted of Randy Couture on top of James Toney literally teeing off on Toney's titanium cranium (now that's a good name for a band). Randy went for an arm-triangle and then told Toney 'you just won't tap, will you?'. Randy released the submission, grabbed a few more punches on his Compustrike tally, and then finished the fight with the same arm-triangle.
After the fight, Neil Melanson awarded Randy Couture his black belt while James Toney sulked in the corner of the octagon like…a boxer that was just defeated by a MMA hall-of-famer. It was Toney's MMA debut and he lost. We all expected that outcome in some capacity. In his post-fight interview, James Toney said that he would be back and he 'wouldn't quit' which is the most respectful and humbling thing you've heard from Toney since he started stalking Dana White around this time last year.