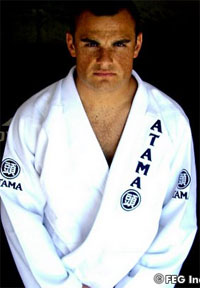 Sakuraba's MMA career record is comprised of a long list of guys you would chop off your index finger just to meet (and he's beat most of them). He's called the Gracie Hunter for a reason. Dude has consumed every Gracie he's fought including Ryan, Renzo, Royce and Royler. In fact, Royce Gracie had to get juiced up on anabolic steroids back in 2007 just to get the unanimous decision win over Sak, a fight that still hasn't been overturned by FEG.
This morning at Dream 14, Ralek Gracie just caused a paradox in the space-time continuum. A rift just opened up in the MMA world that has now made every impossible scenario, possible. Ralek Gracie stays undefeated in his fight against The Gracie Hunter himself, Kazushi Sakuraba by winning a unanimous decision. Seconds before the final round wrapped up, Ralek nearly finished Sakuraba off with a hanging armbar.
Props to Ralek Gracie who has always been my favorite 'new generation Gracie' ever since he nearly clocked Alavutdin Gadzhiyev after the bell rung at Dream 4. Wow, I can't believe we just all saw that happen.