The cult of Nate Diaz alive, well and living on that dude's arm. We're not surprised. One day we'll figure out why one grown man would want the face of another grown man permanently inked on their body; today is not that day.
Look, UFC 196 was a religious experience for many MMA fans. It was for MiddleEasy to.
Do you remember all the the chaos that hovered around UFC 196? Rafael dos Anjos vs. Conor McGregor for the UFC lightweight title. Mystic Mac coming right off of ending Jose Aldo in 13 seconds. The introduction of Chapo alternate outfit Conor.
Nate Diaz stepping in on short notice to face Mac at UFC 196. Diaz Stockton slapping the taste out of McGregor's mouth. A gassed Mac going for a desperation takedown after losing the striking battle. Nate punching on McGregor until he gives up his back and is choked out.
Humbled.
A bloody Diaz finds the camera and flexes on the MMA world.
Damn, maybe we should a tattoo of Diaz's face somewhere on our body? Maybe all MMA fans should?
Is it time for us to go full Guy Pearce in Memento and have all the most important moments in MMA history tattooed on our body, so we can never forget?
We may be only one more monumental MMA moment away from being like this guy's elbow. Now we understand why one dude would want a celebrity he has never met tattooed on his body.
We get your elbow dude, and we can't stop looking into it's eyes.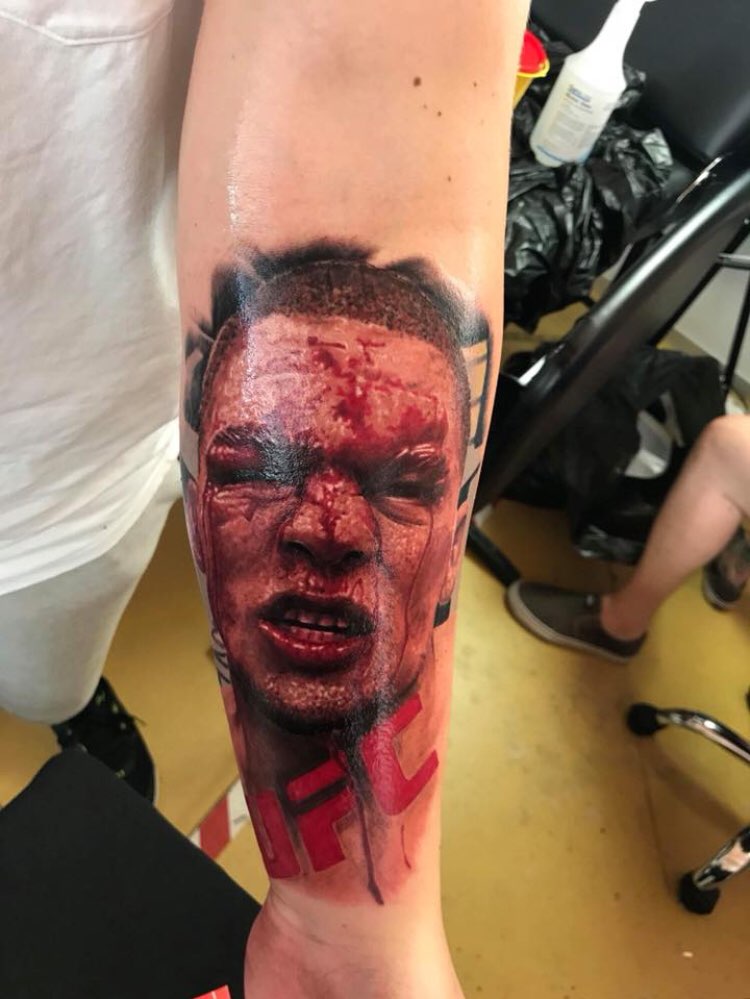 H/T to MMA tattoo expert @CrooklynMMA for the find