Normally EA would just name an athlete (or two) to the cover of Madden every year, and you would avoid that player like the plague by the time your fantasy football draft rolled around. Not this time. If you haven't heard, EA has set up a tournament to determine the next coverboy for EA's flagship franchise. Fans will vote on their favorite players and the usual tournament things will happen, IE people getting eliminated and others progressing. Here is the bracket: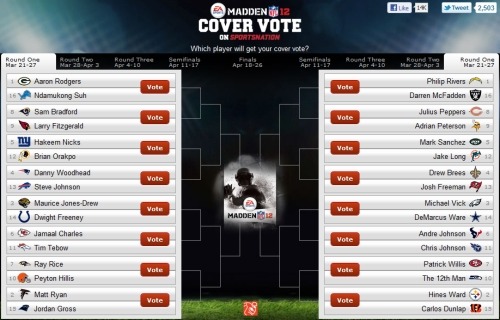 You better believe I will vote for Peyton Hillis as much as humanly possible during all of this. The Dog Pound favorite made something out of my crappy fantasy season last year and I have had him on the majority of my Madden Franchise rosters since his rookie season. On the opposite side of the canine/football spectrum, comeback player of the year and convicted dog mutilator/murderer Michael Vick is on the tournament bracket and PETA is none too pleased. They have already been starting the letter writing/ angry posturing campaign against Vick and EA. Here is what the head of EA Sports, Peter Moore had to say:
"I can tell you we've already received the letters from our good friends at PETA urging us to take him out of the bracket," "I'm not here to comment on what he did. I personally believe, and this is personal commentary right now, that Michael served his time. He's had a tremendous season."

"We believe that Michael Vick, as the runner-up in MVP for the league and the comeback player of the year, deserved his slot,"
You know who else doesn't want Vick on the cover of Madden? Eagles fans. Larry Fitzgerald is the only dude who had a somewhat decent season after being on a Madden cover, and that is entirely due to the fact that fate could only choose one player to destroy for a season, him or Polamalu.
[source]