In honor of the very first UFC event held in 'The Land Down Under', I put some Police on for background music while I settled in to watch the weigh ins with my giant can of Fosters beer and a Vegemite sandwich. Once I'm done writing this I'm going to continue the Australian fest with an Olivia Newton John movie marathon and see if I can figure out a way to create the Coriolis effect on the toilet water to make it flush counter clockwise like it does in Australia. Good times!
On that note on to the fight picks…
James Te-Huna vs Igor Pokrajac
Wow, that was a lurvely staredown. I don't much to say on this one other than Te Huna-yes, please!
CB Dollaway vs Goran Reljic
Reljic came out sporting the 'Chuck Lidell' hawk and he's Croatian. Croatians don't play, I grew up in Croatia 2.0. Its a small suburban city in Northeast Ohio over run by soccer loving Croatians and Serbians. They hated one another…and they hated the rest of us too. They were always scrapping. They were mean. I'm picking Reljic to avoid a gang initiation style beatdown whenever I visit back home.
Chris Lytle vs Brian Foster
I was going to pick Foster, because Foster is Australian for 'beer' but beer doesn't win fights. Lytle for the win.
Krystof Soszynski vs Stephan Bonnar
Bonnar yanked on his chest hairs on the scale and Soszynski was looking ripped and festive in his red skivvies. this is the classic Hair vs Unhair matchup. I've got to go with the unhair for the win. Soszynski takes it.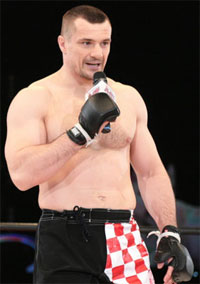 Mirko Cro Cop vs Anthony Perosh
Cro cop-another Croatian! If i ever want to show my face back in my hometown without that mean girl named Marina Smardzjia getting her Croatian mafia friends to pull my hair and soccer kick me into Lithuania I better pick Cro Cop. That and just for old Pride's sake.
Ryan Bader vs Keith Jardine
Not only did I grow up in the heart of Croatian gangland, i also was forced to attend Catholic Mass on occasion. If you have ever experienced that in your life, you likely suffer from occasional disturbing images of burning hellfires and satanic goat looking beings. Well, Keith Jardine looks eerily similar to these images of evil placed in my head by those mean Catholic nuns. I'm hoping by picking Jardine and reciting a couple of Hail Marys it will keep Sister Mary Katherine from coming after me with a ruler in my nightmares tonight.
Joe Stephenson vs George Sotiropolous
Joe rocked some very small superhero underoos for weigh ins. This does not make me want to call you "Daddy", Joe. Sotiropolous looks really serious about putting on a show for his homecountry. I'm picking Sotiropolous.
Wandy vs Bisping
Bisping gave someone the finger at weigh ins and talked some trash to Wandy at the staredown. I enjoy Bisping's arrogant wittiness and trash talking, but I don't think that beats out someone who looks like Baraka from Mortal Kombat. I was waiting for Wandy's blades to come out on stage and slice and dice Bisping up fro the Fatality. Once again for old Pride's sake, I'm going with Wandy.
Cain Velasquez vs Big Nog
How anyone can't love Big Nog is beyond me. He's like a big giant smiley teddy bear that can crush you and choke the life out of you. Isn't that sweet? My final pick goes to yet another Pride legend, Big Nog.