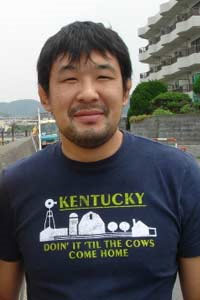 I've always said that if I ever met Sakuraba in person, that I'd give him a big bear hug, but now I don't think I'd have have the heart to do it. I don't want to hurt him. In the last few years, Saku has had his ear kicked off, and basically had to wrap himself like a mummy in order to keep his poor knees, elbows and general frame intact. Now, his arm has been mangled after taking a suplex in a really strange way over the weekend.
Please Japan: put Sakuraba in a giant, orange isolation tank lined with padding on the inside and an unending supply of NJPW tapes for Saku to enjoy. Slip him his meals on a tray, just do whatever it takes to keep him safe.You can't let him be physical anymore, his body can't handle it. You're letting one of your national treasures grind himself into mush.
Thanks to MMA Critic and Sean Carleton for bringing this to our attention, we think.