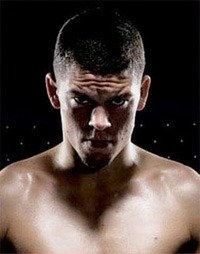 Whenever a referee tells you to protect your eye, you know you're about fifteen minutes away from taking an unplanned visit to the emergency room. By the middle of the third round, Joe Rogan started talking about Marcus Davis' eye like they were about to place bets on when it would mutate into some b-movie monster. The fight started off with Nate Diaz raising his hands as if he were trying to show the size of a fish he caught earlier in the day. Marcus Davis exploded on Nate's face which temporarily sent him to the ground. Within seconds, Nate was back up on his feet muttering something to Marcus that one can only assume was filled with four-letter words.
For the remainder of the fight, Nate Diaz established his right and left fists on Marcus Davis' face at every possible opportunity. Right hooks, left upper-cuts, wild jabs and even strange downward rainbow punches. Yes, Nate even threw double complete rainbow punches. Towards the end of the third, Nate Diaz sunk a deep guillotine which sent Marcus Davis astral traveling out of Boston, MA.
Props to Nate Diaz on another win and hopefully one day, Dana White will give a title shot to the 209's sole representative in the UFC.