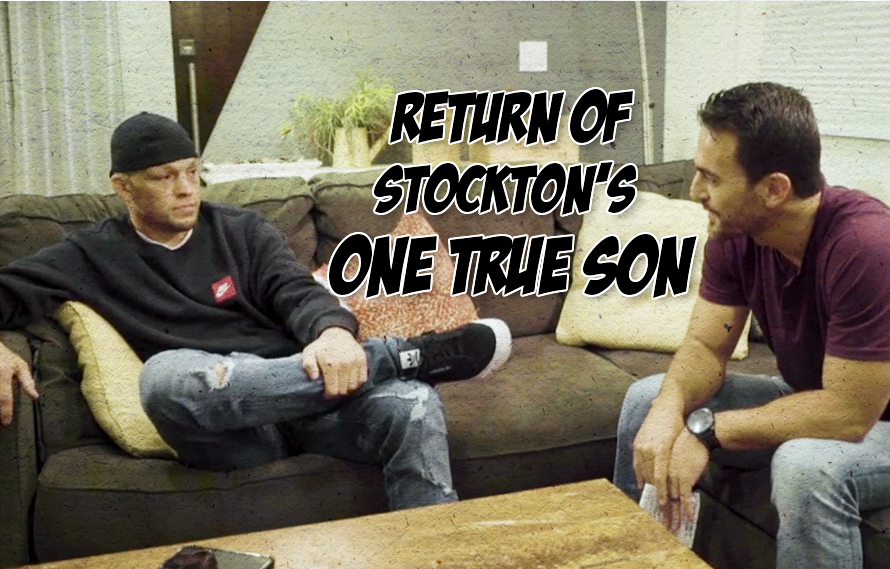 Nate Diaz fight week is back. This truly is a MMA national holiday.
When not calling Anthony Pettis The Wheaties Guy, Diaz is doing sit down interviews with ESPN. Maybe this is a new media friendly version of Diaz. CBD usage is now encouraged by the UFC in part due to Diaz hitting the pen at UFC 202.
Nate Diaz really hasn't stepped in the cage since UFC 202. UFC 202 was in August 2016. Where were you in August 2016? That's three years ago for those afraid of math.
What version of Diaz will even show up at UFC 241? Who will be standing across the cage from Tony Pettis on Saturday night?
At UFC 202, Diaz was fresh off of forcing Conor McGregor to tap out in the center of the cage at UFC 196. The biggest win of Diaz's MMA career and the 209 Ninja was riding high (heh). Three years ago Diaz lost a majority decision to McGregor. Two judges scored it 48-47 in favor of Mystic Mac with one judge scoring it 47-47.
On that night in Vegas, Diaz landed more total and significant strikes than McGregor. Imagine living in a world where the judges cageside scored the fight for Diaz rather than McGregor? What a timeline to live in.
In this timeline maybe Nate Diaz and the UFC work things out AKA the UFC stops being cheap and pays their fighters more. Per Diaz in 2017, the UFC proposed a four man tournament idea to him. Georges St-Pierre, Conor McGregor, Khabib Nurmagomedov, and Stockton's One True Son all enter into bracket.
The UFC loses control, which the hate, but MMA fans finally get a mini-Grand Prix from the biggest MMA promo in the world.
"They (UFC) just offered me GSP, Khabib, and Conor, four man tournament. And I'm like 'okay that's what we're going to do?'. It was great, they wanted to put with me GSP first. I know he had some **** to settle with my bro."
Why can't MMA have nice things?
Check out the full Nate Diaz interview with ESPN MMA's Brett Okamoto below.