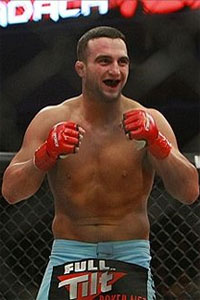 Did anyone's television get messed up by that force-field around Scott Smith's chin last night? I thought my speakers were too close to my TV because it created this weird magnetic distortion but then I realized that Scott Smith's chin was airing live on Strikeforce: Evolution and I knew what was going on. If Mythbusters did an episode on what would survive a nuclear holocaust they would have to throw Scott Smith's chin in there for scientific testing.
According to Compustrike numbers, Cung Le landed 4,030 kicks to Smith's chin and about 810 to his abdominal. Try taking 4000+ strikes to the chin by a dude who broke Frank Shamrock's arm and let me know how it feels. Go ahead, I'll wait…still there? I didn't think so, now let me take your wallet and that Barnes and Nobles gift card your Aunt gave you for your Bar Mitzvah.
Where's Scott Smith's Brazilian jiu-jitsu? What about his wrestling? One word: Hands of Steel. Hey, if Diego Sanchez can make 'Destiny' into two words, we can do whatever we want with the English language. After getting dominated by a tsunami of strikes, Scott Smith managed to score the comeback KO in the final round with less than two minutes left in the fight. Scott was the first person to hand Cung Le a loss in 11 year kickboxing/MMA career.
The real winner in all of this is Scott Smith's chin. That thing should tour around the country (with little chin groupies) and eventually give birth to new baby Scott Smith chins so that the future children of MMA can wear them and not have to worry about getting hit in the face anymore. Congrats to Scott Smith on making a lot of online betting sites very happy.