The first fight in UFC flyweight history is in the books and it couldn't have been better. The pace was moving 'as fast as the clock' according to the UFC announcers, which I'm assuming means really fast, but I don't have to tell you guys that time is relative so we aren't sure what they meant by that statement.
Unfortunately, although the first flyweight bout in UFC history was amazing, it will be marred by yet another controversial decision. I personally had it scored 29-28 McCall, the Twitterverse had it for both fighters. Most agreed that Demetrious had rd 1, round two could go either way, but rd 3 was all Uncle Creepy in a big way with a near finish of Mighty Mouse as the fight ended.
Heerrrreeee's the FightMetric. Click the image to got to FightMetric.com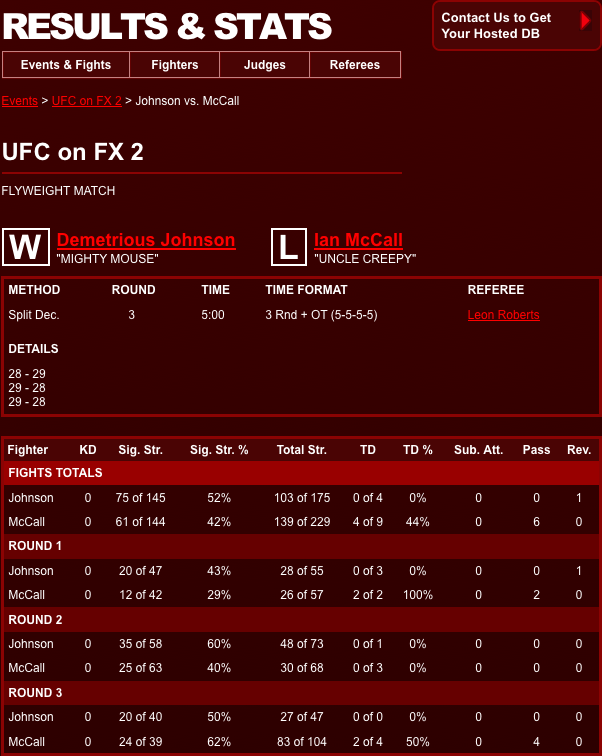 Now Mighty Mouse will face Joseph Benavidez in the flyweight tournament finals. Nice.
UPDATE: It was originally (and confusingly) announced as a split decision but it's actually a majority decision. So in your minds picture the title of this article 'Mighty Mouse Johnson defeats Ian McCall via controversial majority decision'. Thanks.
UPDATE 2 WTF: Now it turns out the fight was actually scored a majority draw: 29-28, 29-29 29-28, which sucks because we all could have enjoyed a fourth round, and on top of that it would've been totally cool to see the first flyweight fight in UFC history go to a sudden death round. Just the mention of the phrase 'sudden death' combined with Uncle Creepy's mustache makes me happy, but the commission took that all away from us. Ugh. Rematch supposedly in April. I'm going to go back to playing Twisted Metal now, even though I'm really not feeling this game. I loved the original two though.
The title to this article should now read: Demetrious Johnson and Ian McCall go to a controversial majority draw after much confusion.