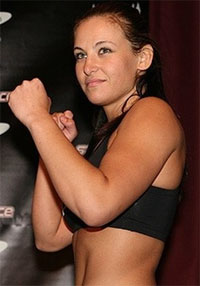 Tonight, when 11pm hits…stop everything you're doing, get to your nearest TV and watch Miesha Tate rock tight shorts in a cage. Sho MMA – Strikeforce Challengers airs live tonight at 11pm eastern (go east coast!) and there's no reason for you not to watch this. You're probably not going to get laid tonight…lets face it. So the next best thing is to watch two hot chicks mount each other. Originally Miesha was supposed to face Kim Couture (Yes, Randy Couture's wife) but a marital shit storm occured so she had to drop up (she's still hot). Nevertheless, the undefeated Sarah Kaufman decided to hop in her place. This is truly going to be a war of…well…chicks. America rocks. 
Here's the main card for people that are too lazy to click here. 
MAIN CARD
* Mike Aina vs. Billy Evangelista
* George Bush III vs. Lavar Johnson
* Miesha Tate vs. Sarah Kaufman
* Aaron Rosa vs. Anthony Ruiz
* Isaac De Jesus vs. Bao Quach
 
Join our list
Subscribe to our mailing list and get interesting stuff and updates to your email inbox.