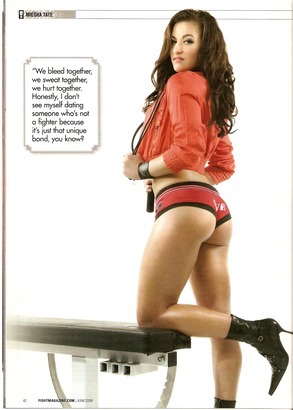 When a picture like this of Miesha Tate comes across, there really isnt a lot to say other than…we told you so. Chicks hot. MiddleEasy has showed her nothing but love for her on the site and…wow. Look at that picture compliments of this months Fight! Magazine. That chick is an MMA fighter. Forget what happened in Strikeforce Challengers a few weeks ago. Just look at that picture. Um…look at that picture. Anything I could say right here is rendered insignificant by that picture. If Gina Carano is the face of women's MMA, than Miesha Tate has the…well you know.
A picture like that makes you just sit back in your chair and ask 'What am I doing with my life?'. Go out and get this month's issue of Fight! Magazine and keep both hands on the wheel while riding home. [Source]
Join our list
Subscribe to our mailing list and get interesting stuff and updates to your email inbox.