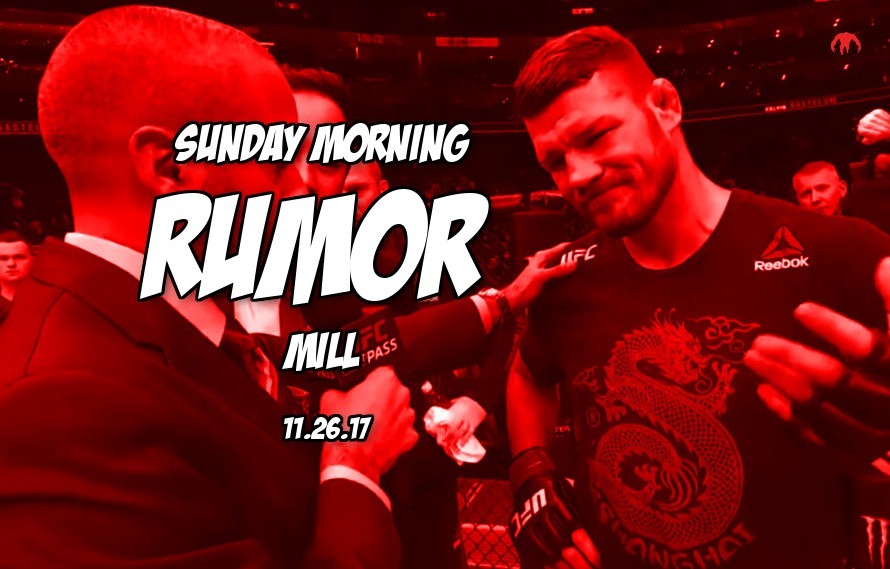 The Sunday Morning Rumor Mill survived the fur day holiday weekend. Thanksgiving can't kill the rumor mill. Black Friday can't sucker punch the rumor mill. Even a Saturday morning trip to China cannot stop the MMA rumor mil from churning out wacky shit.
Heading into the homestretch of MMA in 2017, the strangest year in cage fighting history doesn't appear to be slowing down. The past calander year has been MMA's personal Upside Down.
As always these are rumors that have been talked about behind closed doors between MMA higher ups, so take them as MMA rumors.
Stare into the abyss that is your refrigerator filled with leftovers, contemplate eating something from Thanksgiving one more time, then gorge yourself on a tasty slice of Sunday Morning Rumor Mill.
In case you missed it, talks between the UFC and Conor McGregor in regards to his next fight went sour fast. The UFC looked to McGregor to salvation not one but two cards at the end of 2017 as well as the end of 2018 and were passed over by both. Money is always an issue and it looks like fighting in MMA for the money he wants may become increasingly difficult for Conor McGregor. Expect Mac back to boxing talks to ramp here in a bit.
Not the best couple of weeks for the UFC behind the scenes. Rumors say the UFC are swimming in deep waters when it comes to their next big TV deal. With Fox still the front runner, the UFC is hoping CBS, NBC, Turner and yes even Amazon will make an offer they go back to Fox with.
In a deal that may set the market for the UFC, or vice versa, the WWE is in talks with YouTube TV and Amazon Prime for their next TV contract. WWE currently attached to NBC Universal but is always trying to say one step ahead, with sources saying they are looking outside of cable networks for a home for their Monday and Tuesday night programming.
Despite his second loss where he went unconscious in 21 days, rumors are the UFC is still moving forward with Michael Bisping's retirement fight in March. Unless something changes and they move the date to fall, this is seen as one last favor to a fighter who's been with the UFC for a very long time.
If you have heard of any interesting Sunday Morning Rumor Mill MMA rumors that you would like to add, feel free to post them in the comments section below, on our Facebook page, tweet us or mail them to us in an unmarked envelope. Just remember they are rumors and not confirmed as fact, so please take them as such.