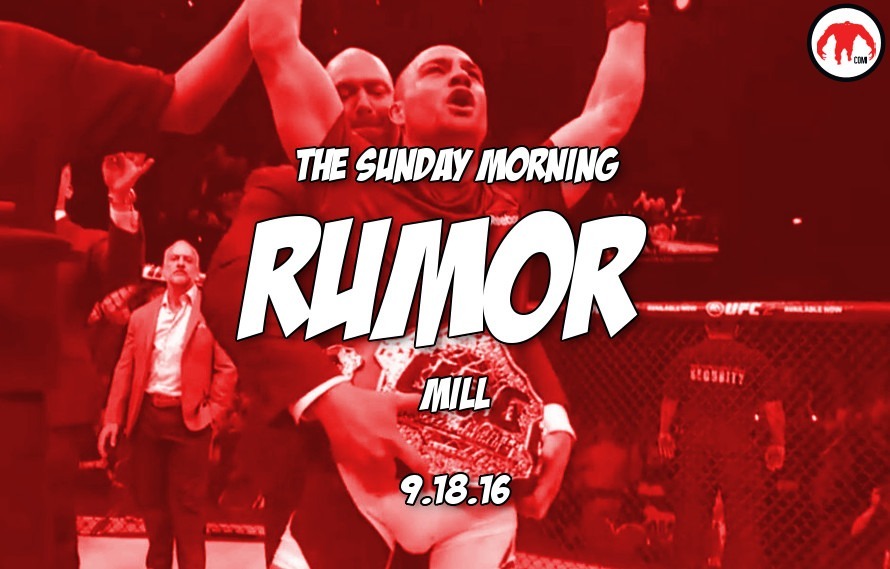 So, Chael P. Sonnen is with Bellator, UFC 205 in New York City is finally coming together and some of the rumors floating in the aftermath of these two unrelated events will blow your mind. Whenever both Bellator and the UFC hold events on the same weekend, the MMA rumors alert meter goes a little haywire. Too many MMA luminaries in the same place at the same time produces even more off the charts brain storming sessions than usual.
Hidalgo and Cedar Park, for at least one weekend you were the epicenter of all things MMA. Cherish this weekend, frame it in a discount picture frame and touch it when you need to feel some fresh new MMA rumors run through your veins.
As always these our rumors that have been talked about behind closed doors between MMA higher ups, so take them as rumors.
Saddle up because this is your post-Texas road trip edition of The Sunday Morning Rumor Mill
UFC employees are allegedly now talking like Conor McGregor fighting Eddie Alvarez is a done deal for UFC 205 live at Madison Square Garden in NYC. All signs seem to point to that the fight is now finalized.
Insider reporting metrics have pinpointed UFC 203 actually did something in the range of 450,000 to 460,000 buys on pay-per-view. Internally in Las Vegas, for a card with two big heavyweight fights as well as a "big investment" like CM Punk, the projections were lower than expected
Edson Barboza vs Khabib Nurmagamedov may be in the works for UFC 205. Barboza has stated he wouldn't fight friend and training partner Eddie Alvarez, but maybe he will get the chance to fight on the same card as him if this lightweight contender run-off is booked for the mega card
More steam is picking up on troubles within Team Alpha Male. Many well-known fighters from the camp are looking elsewhere as the camp continues to be divided.
WWE's idea behind The Miz and Dolph Ziggler's match open at Backlash was to mock the CM Punk fight from UFC 203. The first 15 seconds or so of the WWE PPV match was a pro wrestling nod to Gall destroying Punk on the ground
Huge if true, but it looks people are saying that Legacy FC's Mick Maynard has been hired by the UFC to serve as a part of the fight operations team backstage. This matchmaker type job title could be the first of a few new hires by the UFC in an attempt to fill the void left by longtime matchmaker Joe Silva
If you have heard of any interesting rumors that you'd like to add, feel free to post them in the comments section below, on our Facebook page, tweet us or mail them to us in an unmarked envelope. Just remember they are rumors and not confirmed as fact, so please take them as such.