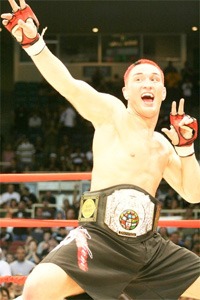 In honor of Strikeforce announcing that Jason 'Mayhem' Miller will be fighting Jake Shields in the Strikeforce Interim Middleweight Title, here is a collection of Mayhem's most recent tweets:
When a girl convinces you into a situation that you don't want to be in, it's your fault- you shouldve been smarter.

trying to get this ringworm (?) off my elbow- sitting at the dermatologist in my pink underwear. I hope that's what it is..

Learned one unexpected thing at the zoo: a lot of people have ugly kids.

Everyone wants a piece of me, no one wants to pay. I'm a prostitute, not a whore. Ok, maybe escort.

lost my iphone on X2 ubercoaster. this is time 2. fool me once, shame on you, fool me twice, can't be fooled again.

Thought I heard a lady say, "I have a ninja fetish"

The gays have mentioned prop 8, asked me what my mango sticky rice was and mentioned a porn star named Eddie Diaz. Please go.

If you listen to the radio, all day the black-eyed peas will assure you that tonight is going to be a good night.
[Source]