It is safe to say that on June 23rd when a Brazilian submission expert meets a Japanese submission expert at One FC: Destiny of Warriors that the world will be watching. Evolve MMA's Leandro Issa will test the mettle of his Brazilian jiu-jitsu against the Japanese living legend, "Ashikan Judan" himself, Masakazu Imanari's jiu-jitsu. Both men have stepped into the One FC cage before, and both walked away with a victory. Issa earning a tough decision victory over Korean fighter Soo Chul Kim in September, while Imanari earned a submission victory over Kevin Belignon in March via reverse heel hook, one of his specialties.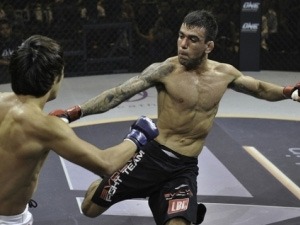 What is there to say about Masakazu Imanari that has not already been said? The thirty six year old fighter has cemented his status as a Japanese legend with his impressive twenty-five victories, sixteen by way of submission. Imanari is known for his interesting fighting style, including his awkward fighting stance which he uses for misdirection against opponents to dive for their legs. Don't expect Imanari to stand and trade with Issa, as he is much more comfortable quickly getting a fight to the ground, and a good portion of his stand up tends to be waiting for the right moment to block a strike and get the fight onto the mat.
Against a fighter like Issa he is in for an uphill battle, as Issa is a grappling expert in his own right, and in the past Imanari has struggled against fighters with impressive grappling. What will separate Imanari from Issa is his experience. If you've seen one Imanari fight, there is a good chance you'll have an idea of his game plan — which would be to dive for the legs and to put on a show on his feet to frustrate his opponent and force him to make a mistake. In many cases, it would be silly to use the same game plan so many times, except for Imanari it has a proven success rate and could very easily lead to another submission victory at One FC: Destiny of Warriors.
Leandro Issa's career might not be as decorated or legendary as Imanari's is, but he has all of the tools to make him a big star in the sport of MMA, and is looking to constantly improve his game. A staggering seven of his nine wins come by way of submission, but working at Evolve MMA in Singapore he also has a sharp focus on improving his striking as well, something that Imanari cannot say. For Issa, his striking mixed with his grappling could be what pushes him into the win column this weekend against Imanari.
Issa will have to pull everything together and study some of Imanari's toughest fights and use an all-out mixed martial arts approach to fighting him if he hopes to come away with the victory. This isn't to underscore Issa's dangerous submissions skills, because they are dangerous, but to prepare for the fact that Imanari has never been submitted in thirty seven fights. If Imanari has shown any weakness in the past, it would have to be his stalling on the feet when the openings on the ground simply were not there. If Issa wants to walk away with a victory, he has to use his surroundings in the cage, control where the fight takes place and make sure to not give up his leg!
Both men have a lot to prove at One FC: Destiny of Warriors. Masakazu Imanari is looking to take his skills on the road yet again and find a new home in One FC while hopefully capturing the one thing that has eluded him throughout his career; a major world championship. A win over Leandro Issa would make him a clear front-runner in the One FC Bantamweight division, pushing him to the front of the line for a world title. For Issa, a win over Masakazu Imanari on a big stage like this could be his breakthrough victory over a world class competitor and legend in the sport. Masakazu Imanari is a household name for fans of Asian MMA, and for Leandro Issa, an impressive win over Imanari could be that first step into superstardom and be on his way to his first championship.