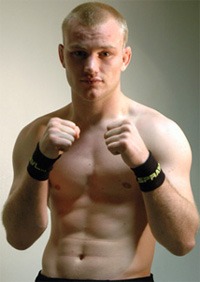 I don't think anyone owes me any thank you notes, but I would like to request an 'I'm sorry' note from whatever mad scientist has genetically engineered two clone beings in the form of Martin Kampmann and Mark Hominick. I believe these two are definitely part of a super secret government clone creating experiemnt. These two look so much alike that everytime I'm reading news about either one of them I get confused and am not quite sure which is which. To make matters worse, they both appear to go to the same barber.
In order to cover up the human creation experiment, scientists were sure to at the very least make these two guys slightly different in weight and height-and that's the only way I know the difference. If I see a picture of one or the other of them, I have to find some text that mentions who they are fighting in order to know which guy I'm looking at. Hominick has battled and been the proud recipient of a Jose Aldo induced forehead hematoma and Kampmann fought a controversial war with Diego Sanchez that caused Sanchez to go from Mexican to Asian in a matter of fifteen minutes. Otherwise you could exchange either guys headshots in a story and I probably wouldn't notice the difference right away. Clearly since the guy's talking GSP-I know these comments on Bleacher Report are from Martin Kampmann.
Kampmann has been gunning for a title shot against GSP in the Welterweight division for quite sometime and thinks he is well overdue. He says he's the one who has been beating all the toughest guys in the welterweight division and thinks GSP should be thankful.
"For sure I believe a win over Hendricks gets me the title shot," Kampmann said. "I feel I should have been given the shot a long time ago. I have fought some of the best welterweights in the world and every single fight I get is against one of the top contenders."
"I'm doing GSP a favor because I'm beating all the tough guys in the division. He should be sending me thank-you letters."
I don't really know a whole bunch of dudes who actually send thank you notes, but Kampmann might be on to something here with GSP. If there was a dude in the UFC who I could imagine sending out a thank you note it would be GSP. Kampmann will be on GSP's home turf when he fights Jonny Hendricks at UFC 154 in Montreal, so maybe he can even get a hand delivered GSP thank you note then. I bet GSP would even hand write it on classy stationary and put a little fleur de lis seal on the envelope. [Source]