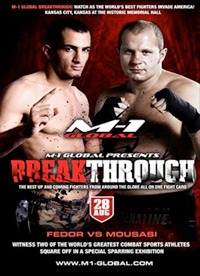 Days like this is when I grab one of my functional alcoholic neighbor's cats and serve it as a sacrifice to the MMA gods for bestowing me with HDNet. Once again PETA, we're just kidding. If kitten sacrificing did happen, the last place you would read about it is MiddleEasy (we're not doing a Micheal Vick reference today. Dude did rawesome last night). If you're fortunate enough to have HDNet and you don't have an annoying Aunt from Detroit that calls you up every Friday at 10pm to tell you about what 'Beth wore at work', then you can watch M-1 Global: Breakthrough. Although this event was supposed to go down with the headliner of King Mo vs. Don Frye (The Don Frye Show starring King Mo), Frye dropped out shortly after the event was moved from LA to St. Louis but to make up for it, M-1 Global threw up a co-main event of Fedor vs. Mousasi. Before you jump on your desk and beat your chest in excitement, just know that it's only an exhibition. We're hoping that one of them accidentally hits the other in the face so they can really start throwing down.
It's safe to say that we're all eagerly awaiting to see what type of 'fly-girl' crew King Mo can assemble for his entrance. When we interviewed King Mo, he told us that since he's on a different continent he's going to have a new set of 'queens' to accompany him in perhaps one of the best entrances in MMA. Either way, we're calling up King Mo after the fight to see if he can hook us up with one (or five) of the chicks. It's worth a try.
Watch M-1 Global Breakthrough at 10pm ET TONIGHT on HDNet and LIVE on M-1 Global's website. If you do, I'll drink a cosmopolitan in your honor. It's a man's drink and let's face it…cosmopolitans are the new black.