According to Yves Edwards, if Hector Lombard likes you it's a good place to be, but if he doesn't then you are simply bound for an early death. Sure we are all bound for death eventually, but I imagine that a death via Hector Lombard fists might be a bit more bloody and painful than your run of the mill heart attack or car accident induced rigor mortis.
Yves also told us that Hector Lombard and Tim Kennedy are the only two people he knows who are capable of killing zombies with their bare hands. These two statements are proof enough for me that I really want to be down with Team Hector. I'm not ready to die and zombies scare the mess out of me.
Unfortunately, for Nate Marquardt it looks like he might be at the top of the list of people that Hector Lombard isn't too fond of at the moment. According to both a Twitter and Facebook account that claims to be the Hector 'Lightning' Lombard himself, he really wants a fight with Nate Marquardt now that Nate's out of the UFC.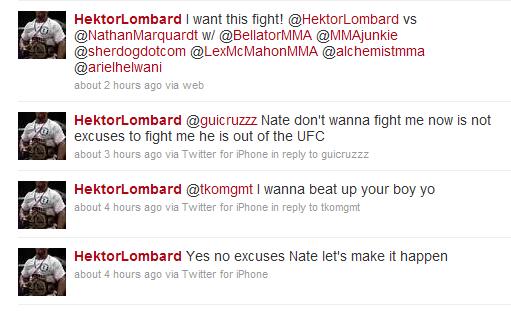 We don't know if Nate wants the fight or not yet, as he hasn't responded to Hector and company's tweets just yet. I just don't think Hector is going to accept 'no' as an answer on this one.