I once turned down a job as a male model because it would require going on a taco-less diet for 4-6 weeks.  I also turned down a career for NASA's space program because it conflicted with my weekly full-contact origami lesson.  The truth of the matter is: I was destined for a more humble lifestyle consisting of domestic beer and a less-than-perfect physical disposition.  Being able to fold a small piece of paper into a ninja star and hurl it with surgical accuracy is the coolest thing I'll ever be able to do, and I'm OK with that.
Kurt Angle's life is much more exciting than mine, and he has the job offers to prove it.  After staring in "The Warrior", here's what he had to say about fighting in the UFC.
"I actually contacted Dana White again after the movie. I flew out to meet him once and got a great offer. I contacted him again, I was thinking about dropping out of Impact wrestling, and there were some personal problems with my marriage and I just wanted to get away. I contacted Dana White, I flew out, and he had me take the UFC physical. I passed it, thank God, and he gave me the offer,the terms weren't good, I mean not for me, and the terms I gave him weren't good for him. He wanted me ready in four-and-a-half weeks; I wanted three to six months. So I respect Dana White and I love him to death, very good friend. I knew I was capable of winning in four-and-a-half weeks, but I wanted to be at my best."
Unfortunately, the story of Kurt Angle's potential UFC career was shot down in just under 140 characters via Dana White's twitter account: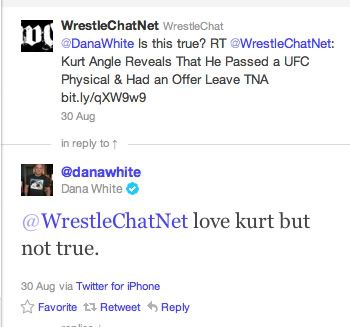 Bummer. If NASA ever tweeted that my space program job offer was a huge lie, I'd probably crawl under a rock and never come out. I'd at least be sure the rock was roomy and had a water fountain pumping Mountain Dew, just so I don't get bored for the remainder of my life.
[source]