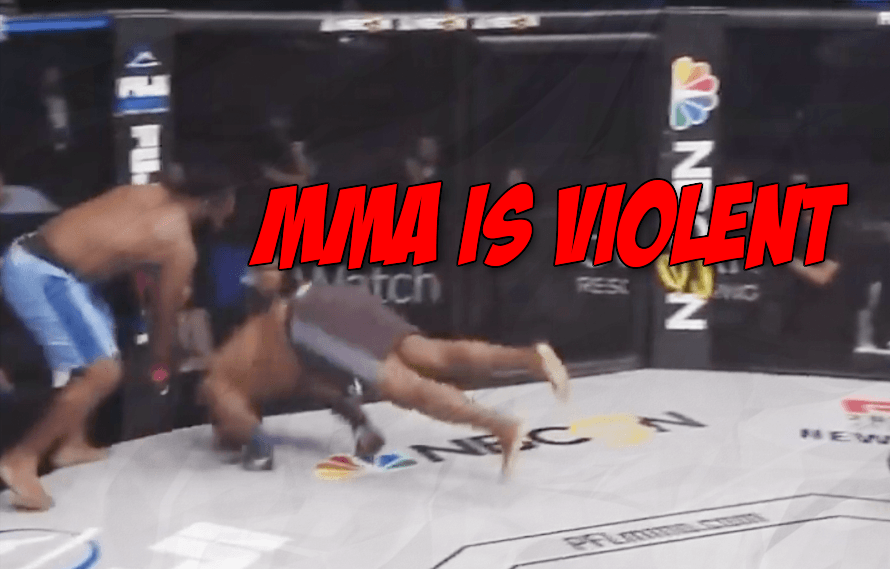 Just a friendly Public Service Announcement about our favorite sport. MMA is scary as hell, just ask LeRoy Johnson. Most of the MMA world had no idea who Johnson was until he was on the wrong end of a face plant knockout last night (Aug. 30) at PFL 7.
One of the most horrifying knockout's we can remember. Reports are Johnson laid motionless in the cage for several minutes after Mo De'Reese drove his knee into his face.
MMA plays for keeps forever and always. For some fans maybe watching Johnson fall face first into the cage, with his arms stiff, will remind them how big of sacrifice these men/women make for the sake of our entertainment.
What is more likely, the majority of MMA fans will immediately forget about this KO and continue to go on with their lives. This didn't happen in the UFC and Johnson isn't a well known fighter, so it's a easily forgettable moment.
Yeah the next time you see someone online troll or harass a professional cage fighter just remind them of this moment. An additional PSA: hey, treat people better online.
MiddleEasy remembers LBJ. Johnson, nicknamed Big, had Michael Schiavello geeking out about his nickname when he called one of his fights. Props for having a nickname about the size of your massive hog.
So check out LeRoy Johnson getting knocked out into the Underworld on a random PFL under card live stream. Then watch it again in slow motion. Finally watch it one more time to see the exact moment his neck snaps back.
https://twitter.com/Jolassanda/status/1035293762321297409
And an update on Johnson's frightening injury. Get well soon LBJ.
For those wondering about LeRoy Johnson, here's the update I have. had emergency surgery for a vertebrae that slipped out of place & a 2nd surgery for high blood pressure issues. Has feeling in arms and legs. PFL flying his fiancé to Philly to be with him. Thats all I know now

— Daniel Rubenstein (@dannyrube) August 31, 2018
MMA remains the realest and most dangerous sport in the game, respect and remember those play it.
Update: Our bad Voice.