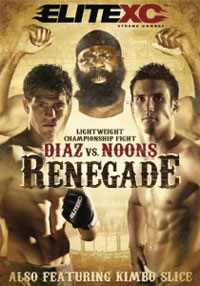 Since the first confrontation took place at the elusive 160lb weight class, a division exclusive to Gary Shaw's archive of extraordinary ideas, the fact that KJ Noons getting a title shot at 170lbs shouldn't surprise you. Granted, Noons is the last person to defeat Nick at any weight class, that's if you consider a controversial doctor stoppage truly a defeat. Towards the end of the first round, KJ caught Nick with a short knee as Diaz went for the double-leg. The abrupt strike was the equivalent of a miniature Chernobyl of blood entirely localized above Nick Diaz's eye. The first round ended and seconds later, doctors called off the fight giving us perhaps the most recognizable KJ Noons/Nick Diaz picture of KJ Noons/Nick Diaz history, a history that only has a lifespan of five minutes.
Months later, a plastic surgeon shaved down Nick Diaz's occular bone in an attempt to prevent the bone from ripping into his scar tissue. Since then, Nick Diaz has gone undefeated and has even found time to describe two guys who jumped him in Stocktown, California as 'two big Fedors'.
It's not Mayhem Miller vs. Nick Diaz, but it's good enough to have you discard your cell phone, lock your door and isolate yourself from the rest of society on October 9th. The title will be on the line and so will Nick Diaz's aility to say 'Don't be scared homie' if he loses in this rematch. Somewhere in Florida, Krazy Horse is jumping on his sofa with an understandable 'Dude, WTF' pose.
Here's the first match-up from EliteXC for all of you MMA necrophiliacs out there. [Source]