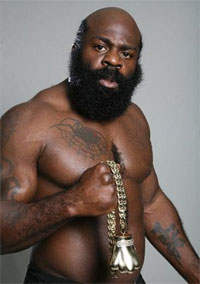 I was eating a Mexican microwavable dinner today and it sucked so bad that it physically made me angry. I mean to the point where I just wanted to throw the entire plate down on the ground and walk away in disgust. I never had an enchilada piss me off that much. Kimbo Slice must have eaten that same enchilada.
People need to realize, Kimbo Slice used to beat up people named 'Big Mac' and 'Afro Puffs' in boatyards. This is nothing new. Dude got in the cage, earned his paycheck and let everyone know that he's finally got a ground game. Training with American Top Team is like moving to Tibet to train Shaolin Kung-Fu with monks on top of mountain. These guys know the best way to immoblize a human being and they've passed down their knowledge to a guy that used to sleep under a bridge in his Jeep Chereoke when he lived in Florida.
Congrats goes to Kimbo at beating a guy that was Kimbo Slice before Kimbo Slice. Dude landed some amazing slams, beautiful ground and pound and a devastating blinged out grill.