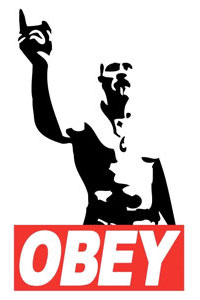 In light of Matt Hamill vs. Keith Jardine being announced for The Ultimate Fighter Season 11 finale, I tried to pull up that infamous video of Technoviking protecting the streets of Belgium from drugged-out ravers while he patrolled the back of a pick-up truck during a street party. It's the go-to video whenever you need to laugh uncontrollably at some dude blindly handing over a water bottle upside down. Unfortunately, it looks like Technoviking has sued the original videographer of the internet meme that has received over 12 million views. The video is still currently on Youtube, but is blocked pending the result of the court case. Bummer. Before his UFC 102 bout with Thiago Silva, Jardine said he did not rule out a Technoviking entrance.
"I think it's funny, man. When people ask me on the street and stuff, I always them that, Yes, it was me, and it was a long time ago, and that kind of stuff. And I have a lot of fun with it, but I think I'd have to take some techno dance lessons first. I think I'd rather come out to … I like weird music, I'd rather use Tom Waits or something first. I don't know, man, I don't know. We'll see. Maybe. I like practical jokes, so we'll see what happens. I don't know if they'll let me fight in those shorts, though."
This news offering pleased Technoviking. Unfortunately at UFC 102, Keith Jardine didn't come out to techno music at all and elected to go with the ritualistic nipple tweak. This resulted in Jardine's second straight loss (at UFC 110, Jardine denied Technoviking again and racked up his third loss). Let's hope Jardine finally realizes that everything good in the universe comes from accepting Technoviking into your life.