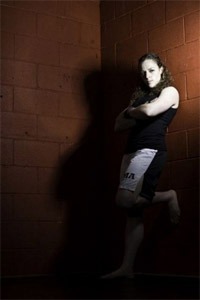 If you ever want something to complain about for an entire weekend, try assembling a computer desk from IKEA right when Strikeforce Challengers is about to come on. By the beginning of the main event, you will end up just sitting on your sofa wrist deep in a bag of pork rinds while your Frankenstein piece of crap desk lies there on the floor like some sort of infantile retard. How do people buy into this IKEA hype? That's like Burger King giving you all the ingredients of a Whopper in a box with the words 'Good luck' written on it. If tonight's Strikeforce Challengers card was produced by Ikea, each fighter would have to assemble their own part of the cage which would probably give Mauro Ranallo just enough time to make one of those weird women's MMA joke. When Cyborg vs. Connen went down, Rannallo said something to the effect of 'Well, it looks like Connen didn't like what color toenail polish she had on!'. Come on Ranallo, what's that about? That's a rhetorical question, so let me talk about a rhetorical fight: Amoussou vs. Prangley.
This had all the ingredients of a suffle filled with some rare element that makes people's heads explode on contact. Instead, Amoussou got poked in the eye early in the first round by Trevor Prangley and the fight was stopped resulting in a no contest. If you're a degenerate gambler like myself (and apparently Bazun and that guy from MMAMoneyline), then you already know that any money from a parlay will automatically get refunded to your account. What wont get refunded are your high expectations for the French fighter that made his debut in Strikeforce tonight. We really didn't get to see a lot of that explosiveness everyone mentions when Karl Amoussou's name is thrown in the conversation. The psycho was derailed by a finger to the eye, three stooges style.
Prior to Amoussou was the middleweight bout between Luke Rockhold and Paul Bradley. Rockhold did exactly what half the audience in San Jose thought he was going to do and raged on Paul Bradley like some belligerent drunk with really good striking. Luke managed to finish off Bradley at 2:24 into the first round with knees to the body. Rockhold then got on the mic and cursed about thirty times before Stephen Quadros asked him that pivotal question rarely heard 'How do you feel?'. Rockhold then went on to curse about twenty more times while he pointed to some dude in the audience.
I'm trying this new thing where I talk about MMA bouts in a non-sequential order like Quentin Tarantino. It probably doesn't translate well but what the hell really does? Have you guys tried to copy a Japanese paragraph in Google Translator only to get the words 'Glorious sunset' repeated over and over again? Now that doesn't translate well. Good idea Google, but you guys need to wait a few years before you can start translating like that. It's ahead of it's time, sort of like Jason High's caesar haircut. Like a guy on Twitter said, "Women's MMA has come a long way…they can put on boring fights at the highest level just like the men". I wouldn't say it was a boring fight, Hashi kept up with Kaufman for a full twenty-five minutes. However, that's really all Takayo Hashi could do. Sarah Kaufman entered the cage tonight and flipped on whatever switch is hidden on the back of her neck to 'Frate Trane' mode. Although Kaufman dropped Hashi a couple times, it seemed like she just couldn't throw enough combinations to finish off Hashi. The fight went to the judges after the end of five extraordinary long rounds and Kaufman swept the cards and won her very own Strikeforce Women's 135lb title. A belt that will probably remain around Kaufman's waist from now until the sun kills the earth. Congrats goes out to Sarah Kaufman and a big 'screw you' goes out to that guy who sold me this Ikea computer desk which is now just something I will step over for the duration of the weekend until I finally decide to throw it out my window.