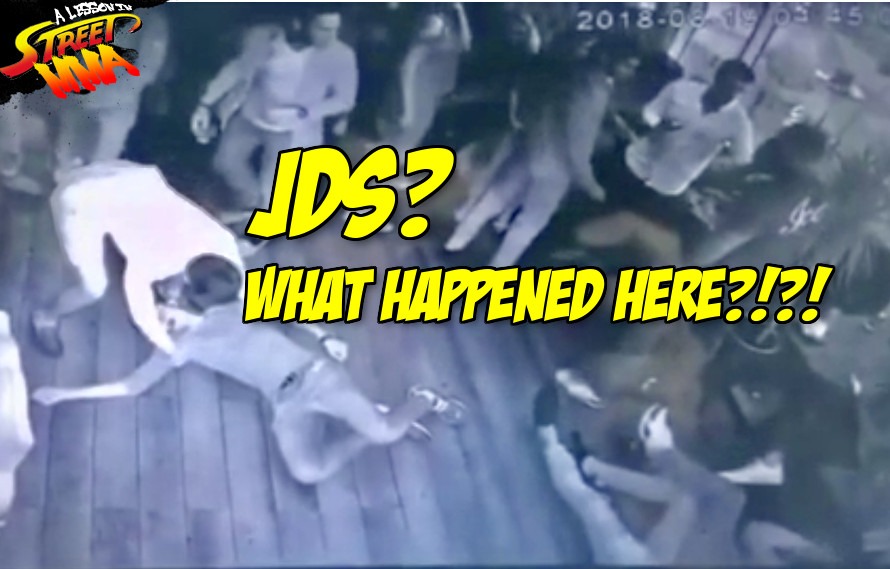 A lesson Street MMA don't ever fight Junior dos Santos ever. No matter how many bros you have with you, no matter the location or the rule set, just never attack Junior dos Santos.
In fact let's expand this hard rule out a little bit. If you are at a club, drinking, having a good time and you someone who vaguely looks like JDS in the right lighting? Yeah, don't mess with that dude.
Also let the record show that the guy in this video looks like nothing like JDS. I mean not even close. Would need so many bad shots of fireball and many sips of Crown and Coke to even consider that to be JDS. I mean if you keep drinking and squint really hard that does kind of look like JDS.
The fact that Bootleg JDS has gained Internet fame and has gotten people to ask themselves if that is dos Santos really says something. About who? About what? We're not sure but this is probably a much broader statement about our current news cycle in 2018.
Either way this guy who just knocked out four dudes cold at the club is someone we don't want to bump into in any situation. Before an ounce of drink could even be spilled, this maniac is swinging haymakers like its the end of days. Just no technique, only power shots thrown at people who have no idea what is going on in a crowded club with music blaring so nobody can explain themselves.
JDS is like one of the nicest guys in this savage sport and would not do this. Remember when our big Brazilian hero sang AC/DC? Yeah, JDS would not and doesn't need to sucker punch anyone in a dimly lit club with an overpriced cover charge.