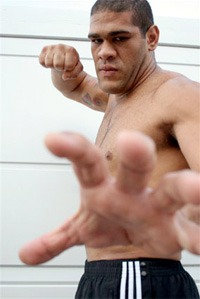 Wow. Just after Dream 11, FEG announced that Kawajiri will fight Shinya Aoki for the title at the Dynamite New Years Eve event. Sengoku gently dusted the dirt off their shoulders and now we will finally get to see the Baby Face Assassin vs. a mythological creature only visible via shaky camera, Bigfoot. The fight has been heavily rumored ever since Bigfoot sort of called out Barnett a few months ago. In an interview with Gracie Magazine, Antonio Bigfoot says that he's going to defend his Sengoku belt by the end of the year and it will likely be against Josh Barnett.
PDL – Is there a chance you will dispute the belt in Japan?

AP – Yes. I'm going to dispute the belt at the end-of-the-year event. I'm still waiting on my opponent, but it looks likely to be Josh Barnett.

PDL – Will you ever fight in the United States again?

AP – Yes, possibly at the end of November I'll be back on American soil.

PDL – What about the UFC, is that in your plans?

AP – I do think about the Ultimate [Fighting Championship], but I'm happy in Japan. I have a contract and I can't sign with the UFC because all their athletes are exclusive.
Dude also says that he will be back on American soil fighting at the end of November. Strikeforce has confirmed they will have a Dec. 5th card followed by a Dec. 17th so we're assuming that Antonio Bigfoot Silva will be scrapping on one of these cards and it's also heavily rumored that Jeff Monson may be involved in the mix…somewhere, probably spray painting the Honda Center with anarchy symbols. [Source]