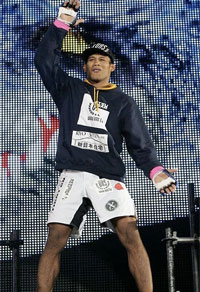 I must preface this article by illustrating just how ridiculous Texas is. People were booing one of the most competitive middleweight bouts of 2010 for absolutely no reason. Texas, these are the same guys who killed JFK so in a sense, it's expected. I can say this because I used to live there for years. In fact, I went to the same highschool as King Mo. He had hair back then and people called him Muhammad. He really didn't talk a lot and when he entered our Geometry class, he didn't have a harem of 'flygirls' that preceded him with a basket of flowers. None of this negates just how horrible Texas as a combat sports state. August 22nd 2009, Paulie Malignaggi vs. Juan Diaz is really the only reference anyone needs to research.
Tim Kennedy vs. Jacare Souza was everything we thought it would be including a complimentary gash above Tim Kennedy's right eye. The cut happened sometime in the third round and leaked for the remainder of the bout. The blood would have expunged any submission attempt by Jacare, but fortunately we were all rewarded with five straight rounds of crisp stand-up from both fighters. However, it looked as if Jacare entered God Mode sometime late in the third round, Doom II style.
At the end of the fight, Compustrike numbers had it relatively even and one could argue that Kennedy landed more effective strikes and completed more takedowns. However, when your face looks like it was inadvertently cracked open by something once wieled by Conan the Barbarian, the judges tend to go for aesthetics over statistics. Props to Jacare on being the new Strikeforce middleweight champion and hopefully we'll get to see Mayhem Miller vs. Jacare Souza III.