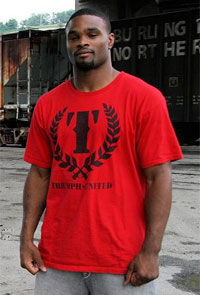 Tonight is your last night to hop on the Tyron Woodley express. There are still tickets left and if you act fast, you can get a great seat in first class. Try not to slip, or you may be yet another victim of Tyron Woodley's frate traneary. Yes, I just created a word out of a word that really isn't a word. Only in San Jose.
Tonight was another exhibition of why Tyron Woodley needs to be in your 'Top 5 welterweights that could possibly defeat your favorite welterweight' list. I'm sure everyone has one, stored somewhere near their 'Top 5 reasons I will never make Nick Diaz angry' list.
After catching Andre with a straight Jab, Tyron went for the single-leg, pulled guard and then attempted to get back up. When he did, he took a voyage to that coveted piece of real estate known as 'Queer Street'. Tyron hopped on him, Andre tried to go for the single leg and then Woodley immediately sprawled, and ground and pounded his way to a win. Props to Tyron for remaining undefeated and being a serious contender for the Strikeforce Welterweight belt.