Before we get started with our overly ginormous EA MMA article, here's what Dana White had to say about EA Sports because it's entirely too hilarious to ignore.
"I went to EA Sports. Know what EA Sports said? 'It's not a sport. This isn't a sport. We would never get involved in something like this.' We come out with a video game and now they want to come out with a video game? (Expletive) you. All these people that want to cry and bitch, EA Sports didn't give a (expletive) about you and wouldn't even touch this thing with a 10-foot pole. We went out and made this whole thing happen. THQ basically put their entire business on the line. If this game didn't work, they were in big trouble. The great thing about this business is, the UFC brand, plus stars, equals success for everybody. So when we do a video game, you're a guy in the video game for (expletive) ever … and you get paid off of that forever. You think Leon Spinks is getting royalty checks somewhere? I just saw a thing on him; he's a janitor. That's what we're trying to not let happen to these guys."
Dana is a businessman and understands that two things in particular have blown up over the last few years…MMA and video games. Together, THQ and the UFC produced UFC 2009 Undisputed and it dominated the charts in its first month. UFC Undisputed 2009 lifted THQ to record sales figures for the first quarter of its release. Their financial results marked a 77 percent increase in sales from the previous year. Now EA Sports wants to place it's trademark on MMA. THQ's Chief Financial officer Paul Pucino stated "There's one premiere league here, and it's the UFC" but will the 'casual drunken meathead' (thanks Joe Rogan) realize MMA expands beyond the UFC octagon?
A brief history
The release of MMA videogames in the past few years have been pretty sporadic at best. Most people consider boxing to be the realistic combat sport of choice for… well since we all rocked out to Mike Tyson's Punchout after school every friggin day. UFC – Ultimate Fighting Championship for the Dreamcast was the first MMA game I ever bought and it was the first major MMA release on western shores. After PRIDE FC, the lackluster UFC Throwdown and its sequels (UFC Tapout and UFC Tapout 2), Fire Pro Wrestling became an underground cult classic offering ridunkulous dream fights like Fedor Emelianenko vs. Josh Barnett (which is the closest any of us is going to see what Affliction promised us). Despite being such a friggin awesome game to play after you've just completed a round of Edward 40s hands, it lacked the technology modern gamers craved. It wasn't until UFC Undisputed rocked everyone's Xbox (and those four people who bought it for PS3) that people realized that it was possible to create a mixed martial arts game with innovative control, sleek graphics and a impossible to escape armbar from Fabricio Werdum. The sales spoke for itself. Over two million copies at $59.95 a pop sold in less than three months. That's like 80 trillion dollars or something.
Now super mega-colossus leviathan Electronic Arts has grabbed a mountain by the throat and threw it in the videogame arena by announcing they're on the MMA scene (and probably never going away). In the prime of both next-generation consoles (oh, and there's always wii barely hanging in there) the Navy Seals of development teams, EA Tiburon, have said goodbye to their family and locked themselves in the lab for the next 12 months to bang out EA Sports MMA.
The Company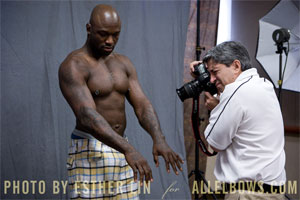 EA Tiburon are the same mutant/alien-hybrids who created the most addictive designer drug for college students and former college students who still wish they were college students: Madden and NCAA Football. So here are three reasons why you should be rioting in the street about this game:
1. Tiburon has a handle on the next gen technology.
After attaching a flux capacitor to their Hyundai Sonatas and setting it to 1.21 gigawatz, EA Tiburon has traveled into the future and have extracted something know as Protak™. It's actually an engine developed by Tiburon which makes every bump, drip of sweat and muscle movement beautifully visible. We're assuming that this same engine will be utilized and refined in EA Sports MMA. If so, then we can chalk the game as an instant win. The mantra of the game is also bankrolled by the same people who developed Fight Night, not to mention it seems like the lead developer knows what he's doing.
2. EA's 4oz gloves are dripping with money.
Electronic Arts is like the rich uncle that you wish you had. They have this dial in the EA office that just says 'Give us more money'. Whenever they want to throw their competition inside a George Foreman and just grill it out of any physical recognition, they flip that switch. Remember NFL 2k and ESPN NFL? Switch was flipped and they threw the NFL enough money for the rights to the entire league. That meant no other company could even use licensed NFL material. They just gave up and made games like 'Blitz: The League' that used fictitious teams that did lines of cocaine off strippers' backs (seriously). THQ essentially put their entire company on the line for UFC Undisputed and it paid off tremendously. Competition for EA Sports MMA is like that group of roaches that appear in your apartment kitchen at like 2am in the morning. It sort of freaks you out but then you'll use everything in your arsenal to squash them. It's happened before and it'll probably happen again.
3. Online Play

EA has mastered the science behind cranking out a thriving and successful online community so we're assuming it will be the steady (mostly lag-free) environment we're used to. Now imagine features like recording your favorite submission victories from a previous game and sending it out to your friends. We've seen it before with Bungie in Halo 3. Fully integrated online profiles that can be accessed via web. With Halo 3, the game breaks down not only geographically where each killed occurred but with what weapon. All games are recorded so that players can access them days later. Imagine having a layout of the cage and seeing exactly where each jab was thrown, each ankle lock was attempted and each KO occurred. Yeah, we know EA isn't Bungie but we're hoping they rip a little something from them (and then vastly improve on it).
The success of EA's Skate series redefined the skating genre and dominated Tony Hawk in sales. Its innovation was largely due to the heavy emphasis on the analog stick as opposed to button mashing. An upward flick of the analog would execute a flip kick. Flick the analog stick the other way and it'll…well, it'll do something. I just rocked the demo and that was a while ago (fun game, but I'm broke). UFC Undisputed 2009 utilized a similar system to pull off ground and grappling transitions. It's rumored (and pretty much confirmed at this point) we will see something very similar to this in EA Sports MMA so expect the analog stick(s) to dominate all controls within the game.
Cage or Ring?
Probably both. Strikeforce has the circular shaped cage (no octagon unfortunately) and Dream, Sengoku and M-1 Breakthrough are all boxing ringed out (except for Dream 12). Since fighters from all of these organizations have been confirmed, we're assuming both fighting environments will each be represented with their own unique advantages and disadvantages (grabbing ropes to prevent takedowns, pinning your opponent against the cage…etc).
Game Modes
Throw in a robust career mode, create a fighter and I'll have another valid excuse why I don't have a social life. But it's EA, we know they'll take it a step further. What about the option to create your own gym? You've been an all-star in career mode, won some regional fights, pulled a little cash together…a few of your online buddies want to start an MMA gym so you pool together your funds and you have a place where you can all train. You create your logo (or upload a photo), get a few other people online to train in your gym and your career character will get a bonus based on how many students are under your gym and how often you train. Keep raking in the cash and you can upgrade your gym equipment, expand your facility…the possibilities are endless if EA Sports incorporates a monetary system in the game.
Confirmed Roster
Even though some of these names haven't officially been announced by EA Sports, we're psychic. Here are the names of the fighters that we absolutely know will appear in EA Sports MMA: Jay Hieron, Gegard Mousasi, Fedor Emelianenko, Randy Couture, Bas Rutten, Frank Shamrock, King Mo, Mayhem Miller, Babalu Sobral, Tim Kennedy, Cung Le and Tim Sylvia.
Heavily Rumored Roster
These fighters have heavily been rumored on message boards, MMA sites and next to kegs of Coors Light (we're assuming) to appear in EA Sports MMA. It's pretty comprehensive and if EA Sports incorporates at least 70% of this list, they will literally have reached in the chest of every diehard MMA fan, ripped their heart out and stamped a EA Sports logo on it.
Since EA Sports really hasn't discussed incorporating a 135lb and 145lb Women's division in the game, we're reluctant to compile our list of…oh what the hell. Here is our really short list of a very large pool of female MMA talent that we would consider selling our own time-travelling Delorean for: Gina Carano, Cris Santos, Kim Couture, Kelly Kohold, Kerry Vera, Shayna Baszler, Erin Toughill, Marloes Coenen, Roxanne Modaferri, Debbi Purcell, Sarah Kaufman, Mega Megu, Miesha Tate, Michelle Waterson…just read our Top Ten Girls that can take Cyborg's Belt for more names.
We know the game is more than a year away but we just can't help getting ridunkulously amped for this game. EA Sports creating an MMA game is like Jimi Hendrix playing the star-spangled banner on Guitar Hero. We don't even know what that's supposed to imply. All that matters is somewhere in California, the crew at EA Tiburon is rendering Bobby Lashley…and they just had to upgrade the size of their monitors. Props to our bud, Esther Lin, for the pictures.