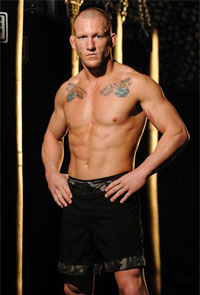 Gray Maynard's shorts looked like he should have walked to the octagon with sparklers and James Brown's 'Living in America' playing inside the TD Garden. Leave it to The Bully to pull off metallic gold shorts with what appeared to be white sequins. Despite his attire, Gray Maynard grabbed a decisive unanimous decision over Kenny Florian to finally get a title shot after three very active years in the UFC.
The fact that Kenny Florian didn't walk out to Wu-Tang Clan was a little puzzling. Alright, it was really puzzling. Tonight was the first time Kenny Florian didn't come out to a Wu related song since his fight with Roger Huerta at UFC 87. Instead, KenFlo chose a ballad of bagpipes which is bizarre considering that Florian is Peruvian.
Out of Gray Maynard's nine fights inside the UFC, seven have gone to decision. In fact, Maynard's last finish was against Joe Veres at UFC Fight Night 11: Thomas vs Florian three years ago. Good job by Maynard on securing a title shot against [insert name here] and grabbing another win to add to his unblemished record.