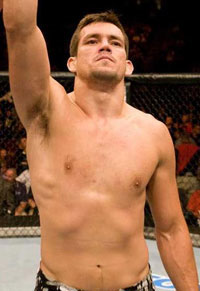 Listen, I know no one likes 'question articles,' but this is coming from a pure place and I'm being serious: Is Chris Weidman going to get Maia'd at UFC 162? Don't get me wrong; I like Chris Weidman, he seems like a really great dude, and if Renzo Gracie likes you, we like you. We actually have that phrase on a poster in the MiddleEasy offices. But seriously, why would you motivate Anderson Silva to want to hurt you, or at the very least hurt you and make you look silly in the Octagon for twenty-five minutes? We know how Anderson feels about respect, and he felt Demian Maia disrespected him before their strange fight at UFC 112, even if he barely did. What we got was such an incredible performance that some people still refuse to even acknowledge it's greatness or can't see the forest for the trees.
Anderson Silva has a long track record of toying with people, disrespect or not. Here at MiddleEasy, we think he waited to tap out Chael Sonnen in the last round of their first fight on purpose (conspiracy theory alert), then he let Chael take him down in the first round of the second fight purely for fun. One only needs to look at the Stephan Bonnar or Forrest Griffin fights to see Anderson when he wants a short night of work, but for some reason Chris Weidman just keeps tapping his toe on the bee's nest, with a little more force each time.
Just a day or two after Chris Weidman stated he has better BJJ than Anderson, which may or may not be true, but it could still elicit a 'Where's your jiu jitsu now, playboy?' from the Spider, Weidman had this to say about Anderson and his skipping of a media day in Los Angeles:
"I haven't been in this sport as long as him, but you watch these superstar basketball players like LeBron James, and after every game, win or lose, he answers questions from the media."

"I hope he's staying grounded, I hope his head isn't getting so big that he thinks he doesn't have to do things for the UFC, but who am I to judge?
Anderson Silva's head has the right to grow at least a few Burger King crown sizes after his run in the UFC, and even if it doubled in girth, it's not like anyone could hit it. We understand the need to Chael it up to a degree, and confidence is that extra cornerman ready to slather some vaseline on your face and remind you that you're the number one contender for a reason, but like George Bluth, Anderson Silva has a funny way of teaching lessons.
As usual, Anderson's mystique only grows with his unorthodox pre-fight dealings. He hasn't said much about Weidman, and maybe his skipping of the media tour in Los Angeles was a subtle way of reminding the world that he doesn't think Weidman deserves this fight. He made that point not so subtly this February on UFC Tonight:
"It's good for Chris Weidman, not for me, he's a boy, he's a kid, it's good for Chris Weidman."
Don't worry, this article won't turn into a "Does Chris Weidman deserve a title shot" column, that's been discussed a million times over and it's tired and done. Weidman is going to be locked in a cage with Anderson silva in about 8 weeks, and there is nothing outside a wildcard injury to stop it from happening. We can all agree that Weidman is a hell of a fighter, and arguably the most complete fighter Anderson has ever faced, but the irony isn't lost on me when Weidman states that he's been training for Anderson his whole career.
"When I started MMA about four years ago, (Silva) was the champion at 185. When I made the decision to go to 185, I had to believe I could beat the champion of the world or there's no reason for me to do this. So from the get-go, no matter who I was fighting coming out of Ring of Combat at the Tropicana in Atlantic City, I wasn't only training to beat those guys who I was paired up against, I was training already at that point to beat Anderson Silva and become the best in the world. Now I've finally earned the opportunity to get that and I'm not going to let it slip through my fingers … I think I've got my dream match-up right here on July 6. I really think I do. I think the best thing Anderson Silva does is mentally destroy people before they even get in the cage with him. Once you get in the cage with him, he does a great job of making you feel like you do not belong in this cage with me. You're terrible, I'm the man, you're going to find a way out of out of this fight. I think the biggest thing is just – I'm very confident.

I know my skillset, I've seen what Chael Sonnen has done to him, I've seen his weaknesses and I think I can expose them again and look for a finish or a good performance. You've just got to be confident. And you can say anything you want before the fight, but it's all about when you touch those gloves, do you still have the confidence and I'm going to make sure I do. It's all mental … On paper, I'm a nightmare match-up for Anderson. You know, on paper you can't deny it. I definitely have better wrestling and I definitely believe I have proven I have better jiu-jtsu. I think I have the cardio, the athleticism, I think there's a lot of stuff that's siding with me on this fight."
This is the era where your mouth seems to sell fights and not your fists, but to me, basically all that's being said there is that Anderson has been champion in the UFC longer than Weidman's entire career, and Weidman needs to look no further than his coach Renzo for the ultimate reply to that:
Granted, we know how that fight turned out. But the point remains: anyone can get caught and everyone eventually becomes mortal. Fedor, Chuck, Ali, Jordan, and the last century of sports has taught us this. For all we know Chris Weidman is the guy to knock Anderson off his throne made from the bones of his sixteen UFC victims. It's not like Weidman is lying; he absolutely believes in himself and his skills… But so did all the rest. If Weidman thinks Anderson may be getting a big head, and Silva's skills don't compare to his, why motivate Anderson further?
Why get Maia'd?