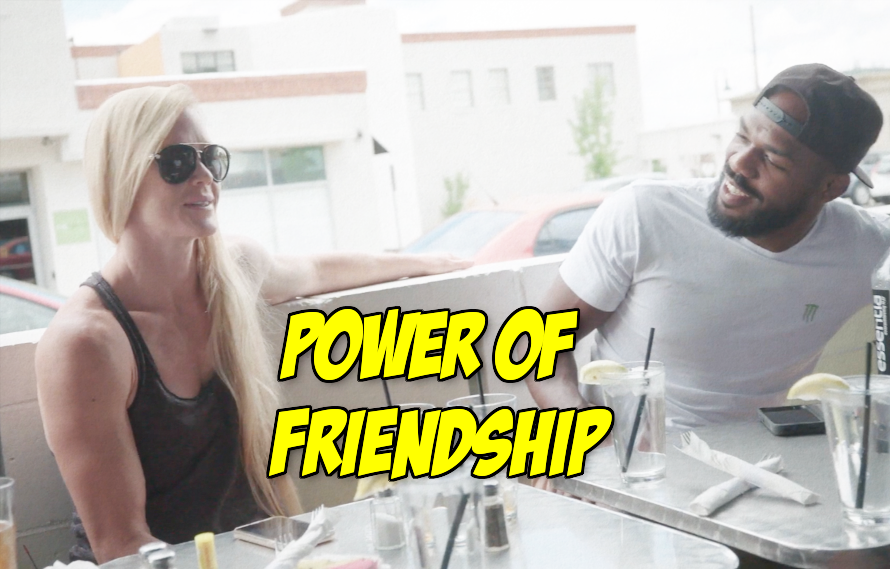 This gives us hope. Maybe the real story of UFC 239 is the friends made along the way. The friendship between Holly Holm and Jon Jones is the type of ammunition people of Team Bones need.
Now that MiddleEasy is fully embracing our destiny on Team Bones being an unstoppable force, seeing Jones' longtime friendship with teammate Holly Holm is kind of off brand. At least publicly, it doesn't seems like Jones is the type of guy who makes friends with his co-workers.
Then there is Holm and Jones. More often than not this pair of Jackson-Wink teammates seem to get along pretty damn well. By being associated with someone as universally liked and respected as Holm, may be all the evidence we need to prove that Bones Jones is a good dude.
If Holm likes you, you have to be a good guy right? Maybe Jones isn't the best at working within the rules of MMA, but damn if he's not a cool cat to hang out with.
Since Holm and Jones are both fighting at UFC 239, a lot of the Embedded hype footage has featured the two of them. This isn't the first time MMA fans have seen these two champions together, but you get the sense these two are true friends.
You know what? Good for Jon Jones on this one. Further validating our decision to hop on the Team Bones bandwagon despite our better judgment. The Holly Holm endorsement is real and the more footage of Bones Jones acting like a normal guy, the better.
Now taking requests 🎶#UFC239 Embedded – Ep. 2️⃣is LIVE ➡️ https://t.co/Syo85URvpI pic.twitter.com/yfFY8kDEET

— UFC (@ufc) July 2, 2019
Check out the full episode of UFC 239 Embedded below